STORY
Call for entries: 2023 CU Innovation & Efficiency Awards
Competition includes cash prizes up to $1,500; submissions due March 31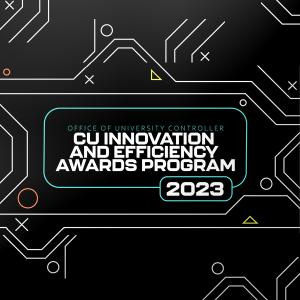 Three years ago, the world underwent a radical shift. Workplaces everywhere shut down and employees were largely relegated to working from home. Long-held conventions about how work should be conducted were blown away in a matter of only months as businesses and their employees pivoted to remote work.
Working from home was not without its challenges. Somehow, we got through those difficult years and came together even as we lived, worked and learned apart.
Even now, as remote and hybrid work environments become the norm, unexpected challenges arise every day, and, just as surely, CU employees continue to come up with new and creative solutions to address those challenges and to help improve our business and educational processes, whether working from home or on campus.
At CU Innovation & Efficiency, we've heard some of your success stories about coping with and surmounting the challenges of working through the pandemic, but we have a feeling there are many stories out there that have gone untold. The goal of the CU Innovation & Efficiency program, which recently kicked off its 2023 edition, is to provide a forum for sharing those stories and your innovative solutions with all CU employees so we can learn from one another.
As always, we will be awarding cash prizes (up to $1,500) to the individuals or teams who submit the top innovations, as determined by our judging panel. Program information and online submission forms can be found at CU Innovation & Efficiency Awards | University of Colorado, and submissions must be received no later than March 31.
These past few years have been difficult for all of us, but we can learn from your success stories. Please share them with us so we can keep moving forward by bringing innovation home.
-- Office of University Controller