STORY
Boulder Staff Council, Athletics work together on staff appreciation events
Recognition, ticket discounts planned for upcoming events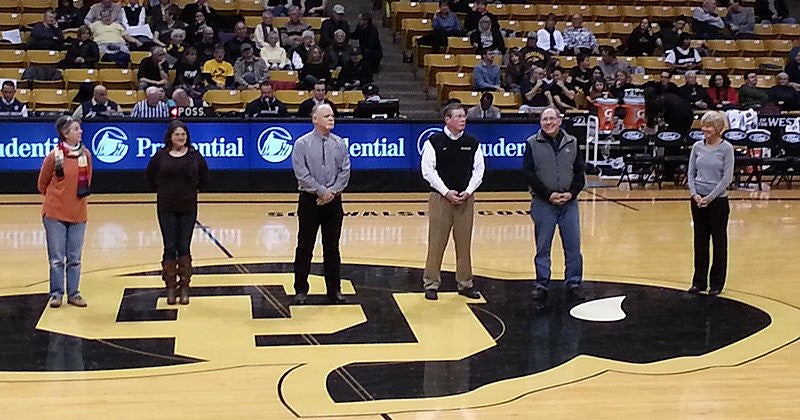 What does appreciation for a job well done look like to you? Studies show that when it comes to being appreciated, employees can have varying preferences from bonuses to recognition, private and/or public, to genuine "Thank You" and everything in between.
The Boulder Staff Council Awards and Recognition Committee (ASR) for the last three years has been focusing on multiple ways to expand employee recognition on the Boulder campus. ASR has partnered with Kyle Geddes from the Athletic Department in working together to focus and promote Staff Recognition. Athletics has been a key player with recognizing the Chancellor's Employees of the Year Awardees during a halftime event at the Faculty and Staff Appreciation Women's Basketball Game. This event not only has been an acknowledgement of the awardees, but the event also provided the winners two courtside seats, center-court halftime acknowledgment and offering staff employees a package deal at a 30 percent discount.
Besides this special acknowledgement, Athletics has been very supportive of other Staff Council events by having coaches and spirit squad members attend, donating door prizes and offering staff discounts to various events. Athletics has been a good partner in recognizing and thanking staff for their work on the campus through very visible events. ASR and Athletics continue to work together for other creative means to recognize our Boulder staff.
With ASR's mission being expanded to include staff recognition, partnerships such as the one with Athletics have been a positive way to acknowledge staff for their outstanding accomplishments. ASR plans on expanding its partnering opportunities with other departments to offer more variety of ways to acknowledge staff.
In line with this, ASR and Athletics have two upcoming events for staff:
Nov. 12 Volleyball Match vs. ASU:
Discounted tickets with a voucher for discounted concession items
Jan. 22 Women's Basketball Game vs. Oregon:
Discounted ticket and concession items.
Recognize all staff during game.
Recognize Chancellor's Employees of the Year Awardees at half-time.
In addition to these events, the campus has many opportunities to nominate other staff members in our community for various recognition and awards. Sometimes this process can be overwhelming and time consuming. If you would like to nominate someone and are needing assistance with the process, ASR members can help you maneuver through the paperwork.
ASR is always looking for new ways to expand this program. So if you have any suggestions on ways to recognize staff that don't require a major infusion of cash please let us know. We can be reached at scouncil@colorado.edu or check us out on our website: www.colorado.edu/staffcouncil
You do not have to be a member of Staff Council to serve on any of our many committees. For more information or to contact us, visit www.colorado.edu/staffcouncil