STORY
Bolstering efforts to fight student food insecurity
President Kennedy directs $300,000 toward issue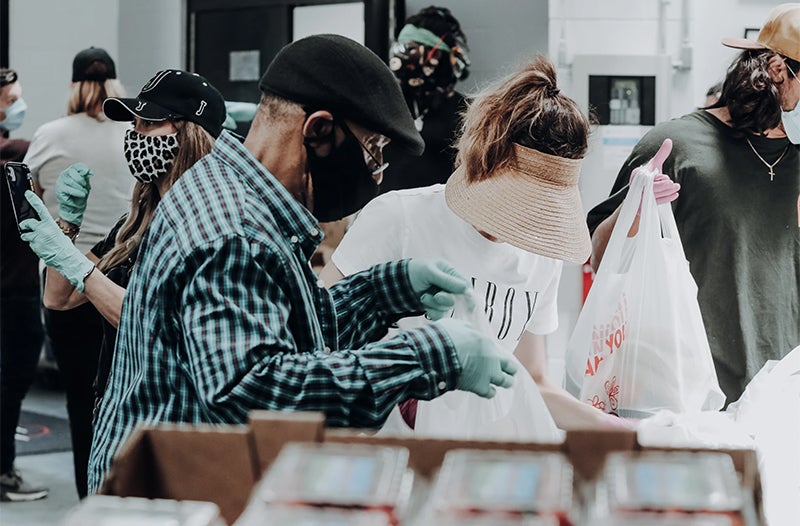 Students across CU experiencing food insecurity will get a boost after President Mark Kennedy designated $300,000 from his office to support campus efforts to address the issue.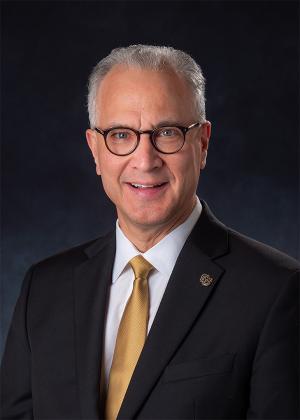 "Our students can't be at their best when a basic need such as food isn't being met," Kennedy said. "Food pantries across CU are doing a great job tackling the problem and I was happy to be able to augment their funding so they can continue, and in some cases grow, their operations."
Of the total amount, $125,000 will be directed to the CU Boulder campus, $75,000 to the CU Anschutz Medical Campus, and $50,000 each to UCCS and CU Denver. The additional funding comes from initiative funds, which are interest earnings on CU's investments. Kennedy said he became aware of the issue and need after conversations with some regents and student leaders.
"I worked my way through college, in part working in the cafeteria, so I have some insight into food insecurity issues, which have been around for some time," he said. "I'm glad we're having this discussion at CU and happy to be able to help address food insecurity."
Intercampus Student Forum President Isaiah Chavous brought the issue to the fore in November during his regular presentation to the Board of Regents. His comments heightened the awareness of Kennedy and the regents.
"Food insecurity has been a topic of increasing importance on the Boulder campus and across the CU system," Chavous said. "Students, and particularly graduate students, have some substantial needs. I felt it was important for the Board of Regents and university leadership to understand the depth of the issue."
Regent Lesley Smith, vice chair of the board, subsequently met with student leadership to discuss sustainability issues. In addition to discussion about green funds to support a variety of sustainability initiatives and talk about a one-stop campus office to direct students to various support services, Smith said food insecurity was a topic at the front of students' minds.
"Given that student leadership viewed this as one of three critical areas to discuss, it's important to give it the attention it deserves," she said.
Smith also had a personal view of the issue after seeing a tweet from one of her former graduate students, who shared that while trying to get food for him and his family, the drive-thru pantry he visited ran out of food 30 minutes after opening.
"There is more need than resources to meet it, so this additional funding will certainly help," Smith said. "We need to find ways to get this program to continue beyond this year."
Board of Regents Chair Glen Gallegos said the attention the issue is getting will help keep it at the forefront of discussions.
"Many people are surprised that some of our students are dealing with food insecurity and they shouldn't be," Gallegos said. "This has been an issue for some time and the pandemic has certainly made it worse.
"We have to do what we can to ensure that CU students don't have to worry about where their next meal is coming from when they're trying to focus on their studies," he said. "I applaud President Kennedy for taking action that will help them do that, and regents for engaging."
Hannah Wilks, director of the Volunteer Resource Center at CU Boulder, which oversees the campus food pantry, had submitted a request to Kennedy for additional funding.
"What it will mean is we can take a look at the highest need going into spring semester," she said. "We'll consider whether there are other types of food distribution we could add."
Currently, the Volunteer Resource Center has a variety of food assistance resources, including a food pantry in the University Memorial Center, a mobile food pantry, a donation program (for food and funding), and connections to resources in the community.
"We've become an essential service," Wilks said.
She cited figures that before COVID, some 38% of CU Boulder students experienced food insecurity, and the figure is even higher since the pandemic. And the issue is by no means limited to CU or any one campus.
"Basic need support is popping up all over, from community colleges to Ivy League schools," she said.
She is grateful not only for the contribution from Kennedy, but for the awareness and understanding of the center's mission from the president, regents and administration.
"We're grateful for the questions, the attention, the understanding of our intention and the understanding of what students are going through so we can provide interventions," Wilks said. "Investing in students is always the best investment a university can make."