STORY
Beth-El faculty member aims to lower blood pressure, increase communication
Editor's note: This is the third in a series of occasional articles about the activities that will take place inside the Lane Center for Academic Health Sciences. The Lane Center is scheduled to open in January 2014 on North Nevada Avenue.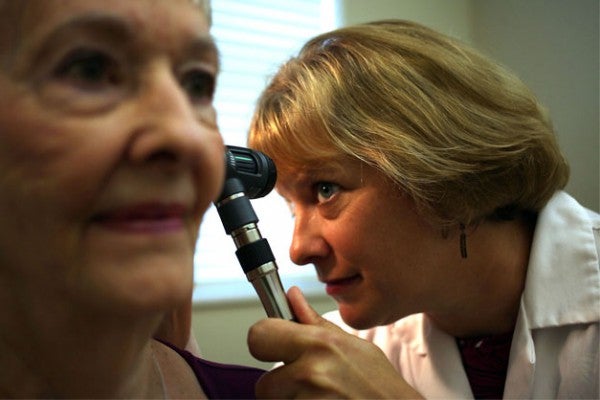 High blood pressure is often called the silent killer.
But a Beth-El College of Nursing and Health Sciences faculty member is anything but quiet when it comes to the illness that affects as many as one in three adult Americans.
"High blood pressure is one of those conditions that is so important to identify early, and to treat appropriately, because of the risk," said Amy Silva-Smith, associate professor, Beth-El College of Nursing and Health Sciences.
High blood pressure can cause strokes as well as heart and kidney damage. While one-third of adult Americans have the disease, estimates are that only one-half are receiving treatment. That's not good enough for the former head of a primary care clinic and with more than two decades of practical experience working with adults.
High blood pressure is defined as anything more than 140/90 and borderline – a warning level of high blood pressure — is defined as pressure levels of 130/85.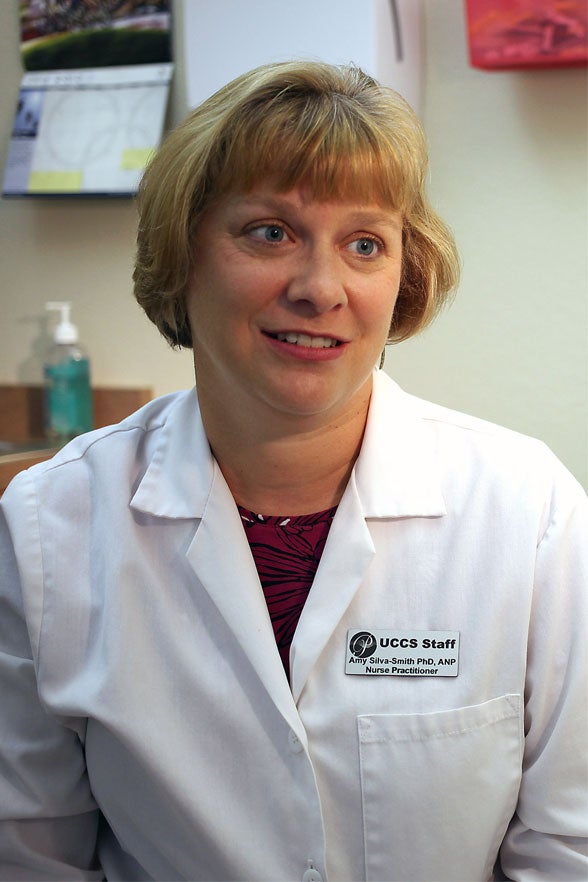 Silva-Smith considers herself a "convener" at the new Lane Center for Academic Health Sciences. In that role, she hopes to rally health care professionals from a variety of UCCS disciplines, as well as health professionals working for Peak Vista Community Health Centers and the CU School of Medicine, to combat a disease found across the age range of adulthood. High blood pressure can be prevented through diet, exercise, stress management and medicines. She also believes there are intersections between high blood pressure and other common diseases including diabetes and arthritis.
A traditional approach to medical care is to prescribe medicine to treat high blood pressure, Silva-Smith said. But that method isn't working. People don't take their medication, a decision that leads to a six-fold increase in fatal strokes.
Why people don't take their medicines isn't clearly understood. But Silva-Smith believes the odds of finding effective ways to help patients lower their risks of serious illness increase when professionals from different perspectives and training work together and closely involve the patient.
"Gone are the days that I, as a health care provider, can say that I know best," Silva-Smith said. "What we're seeing is a need to say, 'Let's sit at the table and let's talk together about what's best for this particular person.'"
As a convener of people with differing skills and backgrounds, Silva-Smith is practicing a new trend in health care called integration. But the topic isn't new to her. At the Lane Center, she will share lessons learned from her experience running a primary care clinic at Palisades at Broadmoor Bluffs, a senior living community that partnered with UCCS to create new senior living models.
"My experience with Palisades was crucial. We learned a lot about how my work as a primary care provider, and the work of those leading exercises or in nutrition, intersected. It's all relevant to the work that we'll be doing at the Lane Center," Silva-Smith said.
Silva-Smith talks about building a table, a place she describes as where health professionals from different disciplines and clients come together to solve problems and meet a client's goals.
"The table is virtual," she said. "What the table represents is communication. A system of communication will be established at the Lane Center so that when the nurse practitioner does assessments on an individual, those findings are shared with a team of nutrition specialists, behavioral health experts, and the person in charge of physical activity wellness for the purpose of optimizing health care for that individual."
"If we do it correctly, people will understand that communication will make their experience better, their health care better and their health better."