STORY
Best NEW festival for 2014: CU Denver's Global Glow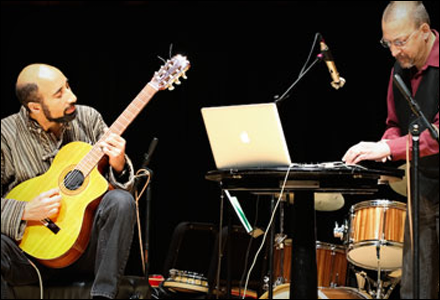 The coolest new addition to Colorado's summer festival season takes place June 6-8 in Evergreen as the NeXt Music Festival presents its inaugural weekend event series, Global Glow. Global Glow Events and exhibits will take place in two venues, the Evergreen Center for the Arts, 32003B Ellingwood Trail; and the Wood Cellar Bar & Grill, 1552 Bergen Parkway. The event features an integrated series of performances, exhibits and screenings, as well as a free music workshop for teens and a variety of community jam sessions.
Sponsored by the University of Colorado Denver, Global Glow provides a thoughtful experience through cutting-edge musicians and artists. CU Denver faculty and students at the College of Arts and Media are personally involved in the production, organization and performance aspects of the event.
More than just another music festival, Global Glow will explore jazz, classical, folk and electronic music, as well as art and film to focus on the relationships between our changing environment and people around the world. By participating in the festival, CU Denver students have a real-life opportunity to be part of the creative process and to bring an amazing event with top talent to the community.
"By participating in all levels of the event, CU Denver faculty and students are demonstrating our commitment to relevant expression and thoughtful conversation about current events through the arts," said Gregory Walker, CU Denver professor and Global Glow artistic Director.
Exhibits feature original drawings reflecting on ecology, history and memory; a large painting/installation that uses the famous Mexican luchadores as a metaphor; digital prints evoking current debates about the environment and needed social change; and a mixed media installation that makes lyrical connections to nature, human presence and loss.
Visual artists participating in Global Glow include CU Denver faculty members Melissa Furness, Quintin Gonzalez, Rian Kerrane and Michelle Carpenter, as well as artist Lanny Devuono. Musical performances feature Peter Stoltzman, Todd Reid, Evan Shelton and Walker, all faculty at CU Denver; and Heather Styka singer-songwriter extraordinaire from Maine.
For more information, see the Global Glow schedule below:
Friday, June 6
6 p.m. - opening artist's reception
7:30 p.m. – Peter Stoltzman, a nationally renowned jazz pianist and Heather Styka will perform a benefit concert with all proceeds going to the Humanitarian International Services for its work with global disaster response.
Saturday, June 7
7:30 p.m. -  A showcase performance featuring "Above the Ashes," Michelle Carpenter's award-winning documentary about the 2012 Rocky Mountain fires; electronic percussionist Todd Reid, and members of the Evergreen Chorale.
FREE lunchtime preview performances will be offered at Evergreen's Wood Cellar Bar & Grill from noon to 12:30 p.m. Friday and Saturday.
Sunday, June 8
A FREE composition and improvisation minicamp for teens takes place Friday, Saturday and Sunday from 3 p.m. to 5 p. m. at the Evergreen Center for the Arts.  Click here for registration materials.
Daily admission:
Adult general admission: $15
Senior Citizen (60+): $12
Student: $7
For more information, call the Evergreen Center for the Arts: 303-674-0056