STORY
Back to the office at 1800 Grant
CU system offices fully open for first time since onset of pandemic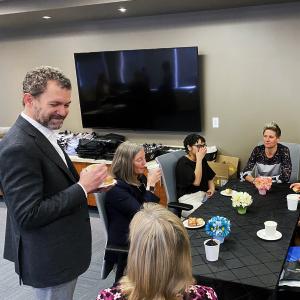 CU's system offices this week regained a level of vitality and energy not experienced in nearly two years with the full reopening of 1800 Grant St. in Denver.
Familiar faces began returning Monday, with many employees gathering to pick up complimentary coffee and snacks early Tuesday and Wednesday. CU President Todd Saliman greeted system staff members at Tuesday's event, where attendees also received welcome-back gifts.
The week's slate of gatherings, co-hosted by System Staff Council, concludes today with coffee and rolls being served 7:30-10 a.m. in the Bruce and Marcy Benson Conference Room. CU-branded swag also will be on sale for $1 each, cash only.
Offices at 1800 Grant St. closed in mid-March 2020 in response to the COVID-19 pandemic, with employees moving to fully remote work. In the nearly two years since, the CU System Administration office has undertaken logistical and structural changes to facilitate hybrid work schedules. Changes include reservable hoteling workstations, hybrid meeting technology and more.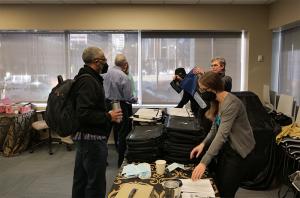 For anyone visiting 1800 Grant St. in Denver, there are a few key requirements to bear in mind.
First, check with your point of contact to make sure they — or their department — will be working on-site the day you plan to visit. Anyone who is not vaccinated for COVID-19 will not be working on site.
Second, anyone entering the building must submit a health attestation the day of their visit.
Masks will not be required, but a supply of KN95 masks will be available at the front desk for those who wish to use them. Visitors are asked to show courtesy by carrying a mask and being willing to wear it if asked.