STORY
Auraria Library hosting exhibit on World War II Japanese-American internment camps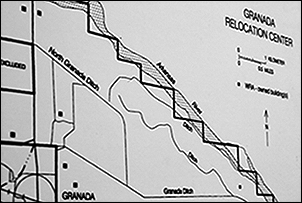 The Auraria Library is hosting a special exhibit through March 20 commemorating the lives of Japanese Americans who were detained during World War II in a southeast Colorado camp in the city of Granada, known as the Amache Japanese Internment Camp.
"Connecting the Pieces: Dialogues About the Amache Archaeology Collection" is displayed in the Auraria Library on the first floor. Free and open to the public, the exhibit opened Tuesday, which is the Japanese-American Internment Day of Remembrance.
Also called the Grenada Relocation Center, the World War II camp was in operation from August 1942 through October 1945 to provide housing for Japanese-Americans who were displaced from the West Coast to Colorado. Camp Amache housed more than 7,500 people, two-thirds of whom were American citizens.
The exhibition, originally compiled and designed by anthropology students at the University of Denver,  already has been displayed at the University of Colorado Colorado Springs campus at the Heller Center for the Arts and Humanities in October 2012. Included in the artifacts on display are items found from archaeological excavations at the camp, which are paired with stories told by the survivors and their families.
Auraria Library owns six manuscript collections related to Camp Amache. Some of the photographs, yearbooks, letters and other objects that were once part of the social fabric of the camp will be displayed alongside the exhibit.
For more information on the collections or exhibit, please contact Rosemary Evetts or Matthew Mariner.