STORY
Architecture students design homes for disabled and service animals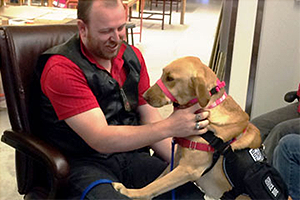 University of Colorado Denver architecture students are learning to design homes with disabled veterans and their service dogs in mind. Students in the Master of Architecture program in the College of Architecture and Planning spent the fall semester designing innovative, energy efficient residences to accommodate disabled veterans and their service dogs working collaboratively on daily tasks.
Students in the course were tasked with designing homes with features that allow a person with a disability to easily move throughout the house. Students also aimed to provide a space that was accessible and comfortable for a service dog to work.
To identify the design elements important to an injured veteran and service dog, the class enlisted the help of local nonprofit Freedom Service Dogs (FSD) on the project. FSD provides specially trained service dogs to people with mobility challenges. The students worked closely with an FSD client – an injured veteran, his service dog, and the dog trainer to determine the home design elements that will be most beneficial to their unique situation.
"I created this course based on my belief that architecture should better accommodate those with limited mobility and range of motion so that quality of life is improved and simple daily tasks aren't exhausting and challenging," said Professor Julee Herdt.  "Design should also include the service dog's needs from the beginning. These dogs are family members with important roles to fulfill."
CU Denver Architecture students teamed up with engineering students to incorporate practical and efficient energy features. A few student design features include:
Kitchen drawings from a "dog's eye view" to better understand how a service dog can easily assist a vet working at a countertop from a wheelchair.
A lamp designed and built from salvage that a dog can turn on or off with their paw.
An enclosed "solar courtyard" for vets needing daylight as part of their healing. The sun's heat collected in the courtyard is used to heat the home.
A home with windows easily opened from a wheelchair, plus features to accommodate a vet dealing with decreasing mobility.
Herdt says, "The students have designed beautiful, functional homes by removing physical barriers and obstructions so spaciousness, sunlight, and freedom of movement are gained."
At the end of the course, one student project will be selected by a panel of professional judges. Moving forward, the student with the winning design will go on to seek funding and support to build a "Freedom Service Home" for a disabled vet-in-need and their dog.