STORY
Advanced Conductor Technologies commercializing CU high-performance, superconducting cable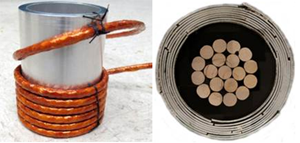 Advanced Conductor Technologies LLC and the University of Colorado have completed an exclusive license agreement that allows the company to continue its work developing high-temperature superconducting cables to provide flexible, high-current density power transmission.
High-temperature superconducting (HTS) cables were initially developed for use in metropolitan electrical networks because of their efficiency and large transmission capacity. Danko van der Laan, a physicist with appointments at CU-Boulder and the National Institute of Standards and Technology (NIST), has developed a technique to make thinner, more flexible HTS cables that can carry the same (or greater) current. These more-compact cables (conductor on round core, CORC) have immediate applications in electrical grids and scientific and medical equipment; they may also enable HTS power transmission for military applications and in data centers.
After optioning the technology from CU in 2012, the company received a Phase II Small Business Technology Transfer (STTR) grant for $1 million from the U.S. Department of Energy to develop its CORC cables for use in powerful magnets that can be used to generate nuclear fusion power. The company began work on this grant in April 2013. Earlier this year, the company also was awarded a Phase II Small Business Innovation Research (SBIR) grant from the U.S. Navy to develop its CORC cables for shipboard power transmission cables.
"We recently received our first commercial order for a high-current CORC magnet cable and are currently winding the cable needed to fill the order," van der Laan said. "We're optimistic that more orders will follow, enabling us to scale up our cabling facility." The company has leased space in Boulder and has expanded its staff to three full-time employees.
"In collaboration with ACT, the university has filed for extensive international patent coverage of this valuable technology," added Ted Weverka of the CU Technology Transfer Office. "We are proud to be working with ACT, and excited to see such an aggressive startup spin out of the university."