STORY
ABC journalist speaks of hard work, success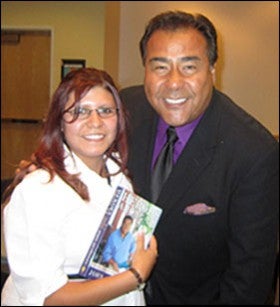 Journalist John Quinones, host of ABC-TV's "What Would You Do?", shared his own story with students and others attending the Hispanic Heritage event Sept. 14 in the Tivoli Turnhalle.
From his childhood in the Texas migrant farm-worker community to becoming a highly respected, international correspondent, Quinones worked hard to achieve success. He recalled at age 18 getting an internship at a radio station in the San Antonio area. In order to lose his accent, he described spending time practicing in the back of the studio, which also housed horses.
UC Denver grad student Lynda Aguado (pictured with Quinones) identified with Quinones' struggles. "I did not realize how far he has come given that English is his second language, and that he comes from a low-income family," she said. "As someone who shares a similar background, I really felt inspired to practice persistence and to embrace the resilience that has driven me to succeed despite limited resources."
Quinones earned an undergraduate degree in political science and speech and later accepted a fellowship in journalism at Columbia University, where he completed graduate work. That led to a television reporting job in Chicago and eventually landed him at ABC News based in New York but covering Central America for 10 years.
"It was a great time professionally, and I learned so much," Quinones said, "but I wanted to tell longer stories." Eventually, he did just that, on programs such as ABC's "20/20," "Primetime" and "What Would You Do?"
For journalists, Quinones said "our job is to shine a light on the darkest corners." One story he reported that continues to motivate his storytelling is the frustration of a young woman he interviewed who was being deported to Central America. She spoke only English but had been brought into the U.S. as an infant by her illegal immigrant parents.
To achieve his dream to tell such stories, Quinones said he had to demand it and keep pushing. He encouraged the students to also hold fast to their dreams.