STORY
23rd annual Welcome Wednesday draws crowd to Parade Grounds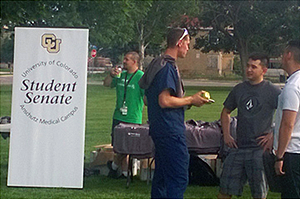 Even though temperatures were in the 90s, more than 800 students, faculty and staff turned out Aug. 28 for the 23rd Annual health sciences programs tradition Welcome Wednesday.
Student groups as well as other service groups such as the Anschutz Health and Wellness Center set up tables to provide information and answer questions. Even the campus orchestra Melomania was represented.
The event organized and hosted by Student Senate and Office of Campus Student Services signals the start of the new academic year.
"It's always nice to have students from all the different schools mingle and have a good time," said Chris Klekamp, Student Senate. "We really were hoping to attract a lot of students and having so many student organizations, a large area, and great music helped make it a fun way to ease back into school and kick off the new semester with a bang."
"It really is a chance for new students to get to know more about the campus, various programs, activities and to just spend a little time relaxing," said Cheryl Gibson, Office of Campus Student Services.
Event goers were treated to typical picnic fare. And for the first time at this year's event, Kosher grill items were available.
Willing participants could even work off a few calories at the impromptu volleyball games.
"The event was a huge success because so many volunteers did their best to give everyone a fun time," Klekamp said. "We could not have pulled this off without help from university facilities, the police, the Wellness Center, the Office of Campus Student Services and all our volunteers. We just really hope that students on campus saw how great our campus life here is and that Student Senate is here for the students and to do everything we can to support our student population."