STORY
$2 million endowment will expand architecture exchange program
Zuhair Fayez, Saudi Arabian businessman and CU alumnus, makes gift to CU Denver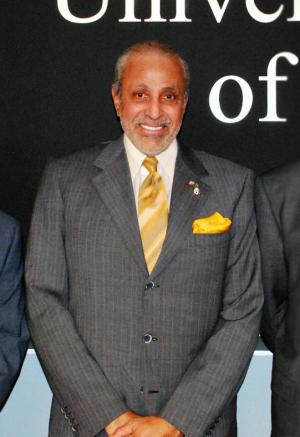 A $2 million gift from University of Colorado alumnus and Saudi Arabian businessman Zuhair Fayez will enable the expansion and extension of an innovative exchange program that builds cultural understanding among graduate architecture students from the University of Colorado Denver and Dar Al-Hekma University, a women's college in Saudi Arabia.
The Fayez Collaborative Middle East Exchange Endowed Program at CU Denver will increase the number of student participants and extend trips for students and faculty from the two universities. The exchange will allow students to explore cross-cultural commonalities and promote cultural understanding of each country. Students in the program will learn ways in which each culture addresses public spaces and gender-specific norms to give them insights into team dynamics and real-world design challenges.
Fayez, founder of the largest architecture, engineering and management firm in Saudi Arabia, earned a bachelor of architecture (1970) and a master of architecture in urban design (1971) in the College of Architecture and Planning, as well as bachelor of science in Engineering (1970) and honorary Doctor of Humane Letters (2010) from the University of Colorado. Fayez also was a co-founder of Dar Al-Hekma, the first private not-for-profit university for women in Saudi Arabia. Dar Al-Hekma is internationally known as a university that advances women's leadership and entrepreneurship in a region where women's rights have been traditionally restricted and limited.
Fayez has remained a tireless advocate for CU, encouraging family members to travel more than 7,500 miles to study in the CU system and founding an alumni chapter in Saudi Arabia. Now, the gift from Fayez will allow more students from CU Denver and Dar Al-Hekma to participate in the cultural exchange and gain a greater understanding of the cultural context of architecture.
"I feel indebted to the University of Colorado because this institution has given me so much of the valuable education that has shaped my life," Fayez said. "There is a power in teaching that comes outside the classroom, and I hope students on both sides learn much about each other's culture through this experience."
The CU Denver/Dar Al-Hekma exchange began in 2010 with online discussions about shared senior design projects. In 2014, the universities for the first time each sent faculty and two students to visit Denver and Jeddah for three days. Beginning in 2016, thanks to Fayez's gift, teams of 10 selected architecture students from both universities will take turns visiting Denver and Jeddah; during each visit, the teams will develop solutions to contemporary architectural problems, as well as learn about the importance of preservation efforts of significant historic buildings. Past projects have included a housing project and a cultural center in Jeddah and an environmental tourism center in Denver.
The expanded program will culminate in a presentation of papers at 2018-19 conferences both in Denver and Jeddah involving program alumni, students, faculty and professionals.
"The design problems are wonderful vehicles for discovering unexpected cultural similarities and dissimilarities," said Keith Loftin, professor of architecture at CU Denver and director of the exchange program. "It is difficult enough for any two people to coordinate a design project with each other, but discovering the cultural assumptions that are normally taken for granted is really eye-opening. It dramatically widens the students' world view."
Mark Gelernter, dean of CU Denver's College of Architecture and Planning, said CU Denver students describe their participation in the Fayez exchange program as among the most meaningful educational experience in their academic programs.
"There can be no better experience for students in a design and construction industry that is increasingly globalizing," Gelernter said. "They gain a greater appreciation of diverse cultures, they learn how to design for a different culture, and they may even meet future business partners. We are grateful to Zuhair Fayez for making this exceptional educational experience possible."