SPOTLIGHT
Website details CU's efforts to ramp up online presence
All Four: CU Online launched today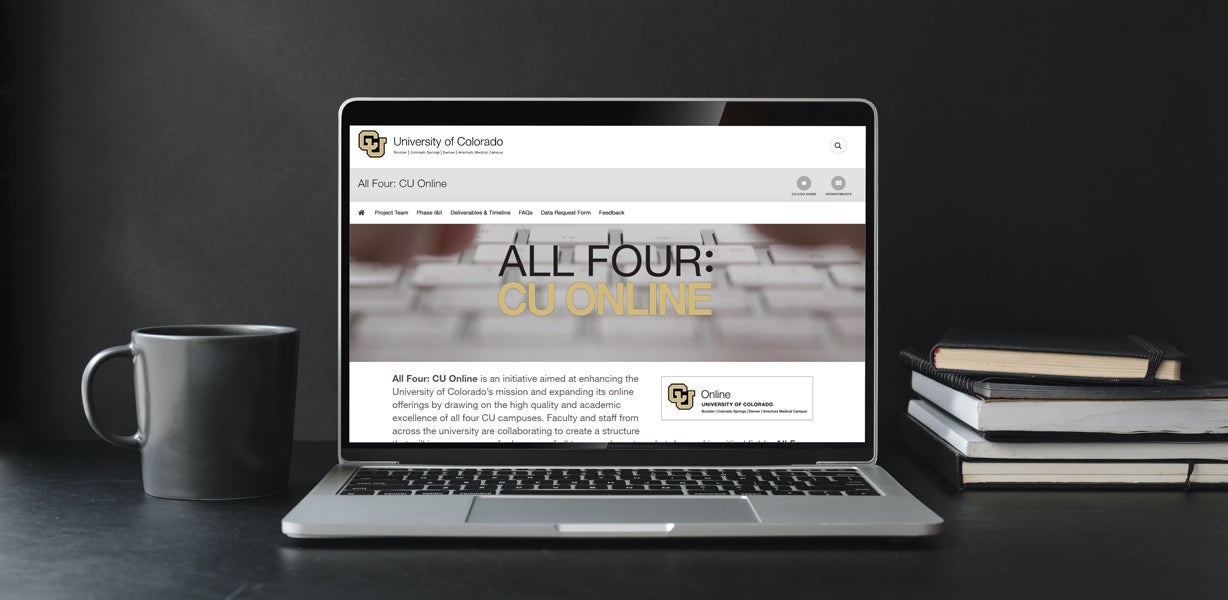 CU's Online Accelerator Committee (OAC) is living up to its name, pushing forward to meet a late October deadline for recommendations to the president and chancellors on how best to build the structure and processes to help the university grow its capacity and enrollment in online education. The university community can learn more about the initiative at the All Four: CU Online website that launched today.
The work began last fall, when the university engaged EY-Parthenon to conduct an assessment of CU's online efforts and make recommendations for how it can increase enrollment and be more competitive in the market. Phase One of the project was completed in the spring and EY-Parthenon made recommendations to President Mark Kennedy and campus chancellors in early April. It found that CU has a strong brand and some significant strengths in online that match market demand, but it is still lagging market leaders.
"If the pandemic has taught us anything, it has reinforced our idea that we need to be strong in online education, which will also have the benefit of augmenting our on-campus programs," Kennedy said. "While I'm happy that we started this work last fall, the reality is we are behind where we need to be.
"Getting a coordinated focus across CU for going forward in online education is one of our priorities this year."
Phase Two recommendations included implementing economies of scale and creating the OAC with systemwide representation of faculty and staff to identify a new structure and processes for online. The goal is to launch the revamped online effort in fall 2021.
While CU's online programs are created by faculty and owned by campuses, one of the EY-Parthenon recommendations was to work toward efficiencies of scale in online-specific areas of recruitment, marketing and student success. To that end, the Office of Digital Education (ODE), which previously served CU Online when it spanned the Denver and Anschutz campuses, is now a systemwide resource serving all campuses.
"We are encouraged that prospective students continue to show interest in obtaining fully online degrees from the University of Colorado," said Sheana Bull, Ph.D., senior faculty fellow for online learning and OAC co-chair. "Our faculty are deeply dedicated to creating exceptional opportunities to serve fully online students. We are committed to partner with them to co-create a supportive environment to increase the reach of high-quality education across our state and region."
A related but separate project will promote a dozen CU-wide online programs in fall 2020 and spring 2021. A one-time marketing campaign will provide the campuses with additional resources to bolster enrollments in these 12 existing programs, and was made possible through support from the president. This project is also helping to gauge market demand for these programs and assist ODE in scaling up to serve all campuses.
The All Four: CU Online website for the broader initiative details the membership, goals and activities of the OAC and its five working groups (Academic, Finance, Information Technology, Online Services and Marketing/Communication). It also has an FAQ section. The OAC is co-chaired by Bull and Scot Chadwick, interim associate vice president of online learning. Its charge is to recommend and endorse the infrastructure for the design, development and delivery of high-quality, sustainable online programs that align with CU's mission.
"CU's educational quality and degree reputation are guiding principles for the project and key differentiators for our university in the marketplace," Kennedy said.
The website invites feedback from the university community on the initiative.
For internal purposes, the project will be known as All Four: CU Online in keeping with the systemwide nature of the effort, mirroring the university's systemwide marketing effort of the past four years. For external marketing and enrollment purposes, what faces the public and current and potential students is CU Online. CU has an RFP posted to engage a firm to help with the program's long-term branding and marketing.