SPOTLIGHT
University of Colorado strengthens state's economy
New study: CU impact totaled $14.2 billion in FY2019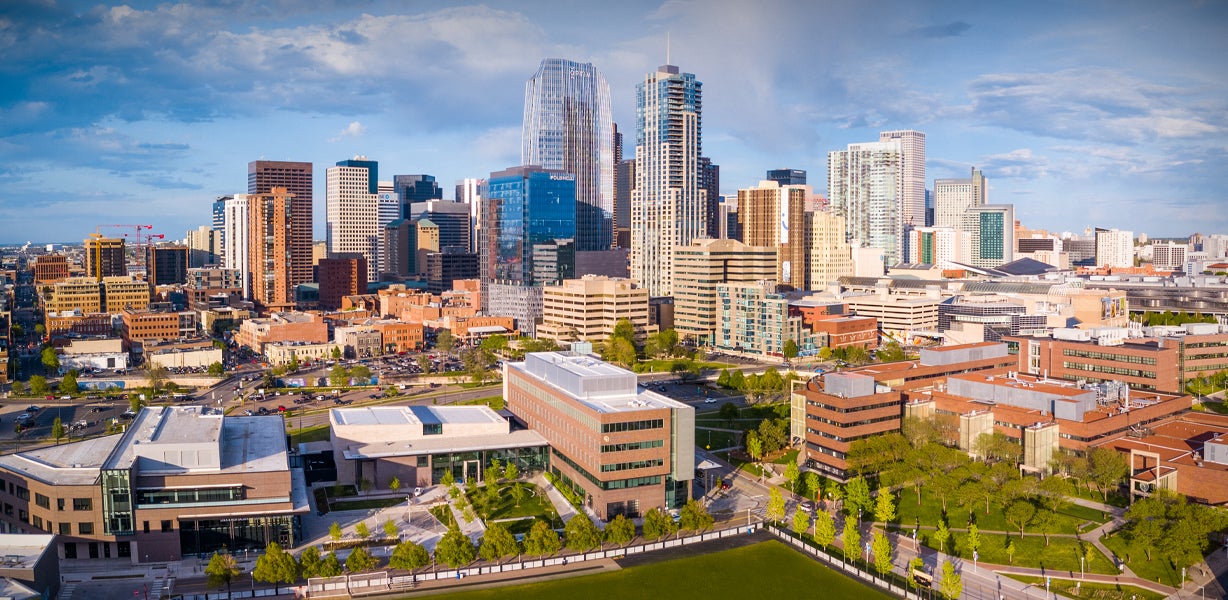 As the University of Colorado carries out its mission of providing exceptional teaching, research and health care, it also generates an annual economic impact of $14.2 billion for the state of Colorado.
That total for the 2018-19 fiscal year is showcased in a new study completed by the Business Research Division of the CU Boulder Leeds School of Business. The report was delivered today to the Finance Committee of the CU Board of Regents.
"CU not only serves the state by delivering on our mission in teaching, research, service and health care, but the university is also an economic powerhouse that has a substantial impact throughout Colorado," said CU President Mark Kennedy. "We are a critical economic driver in our state, and the direct impact and ripple effects from CU are tremendous."
The $14.2 billion total reflects the impact of expenditures and payroll – in education and research, and at clinics – across CU's four campuses and its hospital affiliates on the CU Anschutz Medical Campus in Aurora, including UCHealth University of Colorado Hospital and Children's Hospital Colorado.
The economic impact study was conducted in cooperation with the University of Colorado system and the four campuses. Economic contributions were estimated by examining operating expenditures and capital expenditures, including employee salaries and benefits.
The study was conducted well before the onset of the COVID-19 pandemic, the economic effects of which are having a significant impact on the university. However, even in this challenging environment, CU's impact continues to be significant.
Research an engine: CU operated on $4.6 billion in revenue for the year, with a significant portion tied to sponsored programs and other restricted fund activity. Sponsored program awards totaled $1.4 billion in FY2019; nearly 55% of the sponsored research awards came from the federal government, with the predominant funding agencies being NASA, the National Science Foundation, Health and Human Services, and the Department of Defense. Some federal research laboratories (e.g., joint institutes) are located in the state because of CU, which has helped create the relatively high concentration of federal research laboratories in Colorado. They are often located on campus, and staff may include university employees.
Funding from tuition, grants, contracts, gifts and appropriations is turned around and largely spent in private industry. These purchases, ranging from food services to energy to equipment, generated an economic impact of $9.7 billion on the state of Colorado in FY2019 (nearly $4.5 billion from direct university spending). Of this, research expenditure activities alone had nearly a $2.1 billion impact.
Third-largest employer: In FY2019, CU directly employed 38,975 faculty, staff, and student workers, making it the third-largest employer in the state. When adding that number to a calculation of employees who support the direct, indirect and induced effect of university spending in Colorado, including affiliated hospitals, the total employee figure reaches 89,475.
Powering hospitals: CU Anschutz faculty are the primary health care providers at the University of Colorado Hospital and Children's Hospital Colorado, and maintain a clinical practice billing arm through a 501(c)(3) known as CU Medicine. The additional economic contribution of University of Colorado Hospital and Children's Hospital Colorado is estimated to be $4.5 billion for the Colorado economy in FY2019.
Student and visitor impact: Student ($927 million) and visitor ($43.5 million) spending at and around the four campuses also is tallied in the study. The economic impact of athletics and related events is not included.
Construction: As of June 30, 2019, the close of the fiscal year, progress continued on CU construction projects valued at $683 million; more than 48% was related to CU Boulder. The two largest projects systemwide were the CU Anschutz Health Sciences Building and the CU Boulder Aerospace Engineering Sciences Building.
The breakdown by campus of economic impact:
CU Boulder, $4.2 billion
CU Anschutz Medical Campus, $3.9 billion
CU Denver, $823 million
UCCS, $591 million
CU system administration, $200 million
Educated workforce: CU serves the state, nation and world through leadership in high-quality education and professional training, public service, advancing research and knowledge, and state-of-the-art health care. With education as a core element of this mission, CU enrolled 67,386 students in the fall of 2019 and awarded 16,917 degrees in FY2019.
Nearly 278,000 alumni live in the state, contributing to Colorado's economic and social vitality. Evidence of the university's educational impact can be found in the leadership of private businesses, teachers in classrooms, health care professionals, and policymakers. These alumni are an integral part of the Colorado labor force, particularly in the high-tech workforce, and contribute to the state's rank as second in the nation for educational attainment.
The study is posted here: https://www.cu.edu/doc/fy2019cuimpactstudypdf