SPOTLIGHT
Q&A: Tom and Carole Huber
Tom and Carole Huber met as undergraduates in Colorado Springs – Carole at Colorado College and Tom at the Air Force Academy — and their shared interest in geography has continued to shape their personal and professional lives.
"Almost all of our projects involve both of us to some degree. Carole is always deeply involved in them as editor/travel companion/research adviser," says Tom. The couple work well together, says Carole. "Our shared interests and projects have made our travels through life and the world so much fun over the years."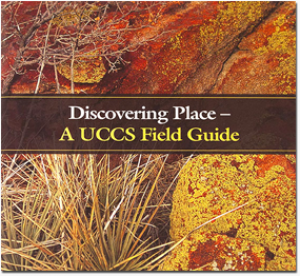 Their most recent collaboration celebrates their home campus and is a highlight of the 50th anniversary of the founding of UCCS. The pair co-edited "Discovering Place – A UCCS Field Guide," a book that examines the plants, animals, climate, resources and past inhabitants of the parcel of land where the university sits. A group of 37 faculty, staff and students contributed to the book, which spans the time from the Cretaceous Period 75 million years ago to the institution's plans for future development.
The idea for the volume came from a similar publication at California Polytechnic University-San Luis Obispo, says Tom, a professor, and Carole, a senior instructor in the Department of Geography and Environmental Studies.
1. How did you come to be at CU?
Tom: I got my Ph.D. from the Geography Department in Boulder. We had lived in Colorado and done our undergrad work here so we knew the state pretty well. My thesis focused on the mountains — avalanches in particular — so the mountains of Colorado are meaningful both personally and professionally. After getting my Ph.D., I taught in the East for a year and soon realized that I was a Westerner at heart and came back as fast as I could when this job was advertised.
Carole: I was first hired at CU in 1985 to serve as research assistant and symposium organizer for the National Science Foundation-funded conference "What We Have Learned Since the Big Thompson Flood," which brought together a multidisciplinary group of researchers on the 10th anniversary of the flood.
2. How did you choose this career path and was there a person or event that influenced you?
Tom: I had to take a required course in geography during my undergraduate program. I didn't even know you could do such a thing – but when I got into the course, I was hooked immediately. That course started my journey with a few interludes (like flying in the Air Force for 11 years) to where I am today. I had a professor, Wes Dow, who was probably the most influential. He was brilliant, thoughtful, demanding, and the quintessential professor for a young mind. I actually chose Syracuse for my master's degree because that is where he went for his graduate work.
Carole: My undergraduate degree was actually in French literature. Tom was my real introduction to geography, and I loved exploring the world and the discipline with him. My first professional work in geography was organizing the 1986 Big Thompson conference. That got me hooked on flash floods, and a subsequent NSF project examining the effectiveness of flash flood warning systems in the United States funded my graduate work, a master's from the Department of Geography at CU-Boulder.
My academic background demonstrates not only the amazing breadth of geography that allows one to come to it from a wide range of disciplinary backgrounds and pursue one's passion, but also the intellectual beauty of a good liberal arts education, an especially important message as universities are coming under increased pressure to train students for a career rather than educate them for the world.
3. Tom, you've written numerous books. Do you have favorites and why?
I've co-authored quite a few of my books, and those that weren't strictly co-authored were in large part helped out by Carole. She was my "field assistant," editor, and adventurous partner. Maybe I have three or four favorite books – the first was my first book on Colorado ("Colorado – The Nature of Place, the Place of Nature") because it got me to places around the state I had never visited. The second favorite is probably "An American Provence." It got us to France (Carole is one-half French) and was a joy to research in both Provence and the North Fork Valley of the Gunnison here in Colorado. The third favorite is probably "Discovering Place – a UCCS Field Guide," the book we just finished editing/writing. It was really fun to work with all of the other contributors. And lastly, is the latest book that is not yet published but has been accepted – "Hayden's Landscapes Revisited," which is about the 1870s Hayden Survey in Colorado. Again, this one got us into some very rugged and special parts of Colorado off the beaten path.
4. Carole, you are sponsor of Students for Environmental Awareness and Sustainability (SEAS). Tell me a little bit about the program and how you became involved.
Tom and I took a handful of geography students to a sustainability conference at CU-Boulder in 2003. Inspired, that group of students founded the student organization SEAS upon their return; I've been the faculty adviser since its inception. SEAS has always viewed its sustainability mission as two-fold, education and activism, and has been instrumental in moving the campus toward a more sustainable future, from demanding green construction to passing a ban on the sale of bottled water on campus to establishing the first student garden. SEAS' current campaign, in collaboration with students from the other CU campuses, is calling on the university to divest of all investments in fossil fuels. As an educator, I live for the rare moments when a student gets excited about an idea, runs with it, and inspires others by his/her passion and excitement. I like to remind students that they have enormous power to push the envelope and affect change.
5. What is your current work/study focus?
Tom: I have several things in the works – after the Hayden book has gone through the production process, I am probably going to start looking at the geographic aspects of the four major rivers that drain Colorado. Water is literally the lifeblood of our state and the West in general. There may not be a more important topic today. I'm also involved with our Anthropology Department and its work on the archaeological heritage we have on campus. Few people know that the UCCS campus is one, big archaeological site. People have been coming here for many thousands of years. I am contributing a small piece to the entire puzzle of who was here and when.
Carole: My current focus is on sustainability. The question I pursue, in my teaching and action, is how we can preserve the amazing world we inherited and ensure it's a safe and just place for all creatures for all generations.
I do have one long-term dream project I hope to get to at some point. I have 20 years of letters (weekly from the mid-1940s through the mid-1960s) from my French grandfather to my mother. Although by profession my grandfather was an electrical engineer, he was also a wonderful painter. Each of the letters includes a watercolor painting, depicting Marseille and world events during that era. I hope to translate the letters and try to publish selected letters and paintings that will help tell the story of those post-World War II decades.
6. You've taught a course titled "Writing Place." How did you develop the course?
This is a course we developed together and have taught together each time we've offered it. It was designed around producing the "Field Guide." The readings and writing assignments focus on "place," and the culmination of the course has been for each student to research and write their own chapter for the "Guide." In fact there are some student contributions in the "Guide" that come from students who have taken the class.
7. What is an award or achievement that has meant the most to you?
Carole: We received the first UCCS Sustainability Award and the Colorado Springs Greenie Award, which were awarded to us as a couple. They recognized the work we have done on our campus and in our community to advance sustainability and inspire students to cherish their "place."
Tom: I guess I would have to say becoming a President's Teaching Scholar many years ago. This group is made up of some of the most intelligent, dedicated and creative people. I feel honored whenever I get to meet with them and learn.
8. What are some leisure activities you enjoy?
Tom: As geographers, we of course enjoy travel to anywhere, anytime. As an example, we went to Iceland for a climate change conference this last summer – what a unique and phenomenal place that is. I was bummed that I missed the volcanic eruption, however. Through all our work in Colorado, we have discovered many of the great places here and go to these places whenever possible (the Crested Butte area is probably our favorite). Carole's mother was from Marseilles, France, and we like to get to France to visit relatives, find great wines, and really good food as often as possible (which is never often enough). We also do the normal Colorado things like hiking, cross-country skiing, biking, etc.