SPOTLIGHT
President's Innovation Podcast series debuts with episodes on DEI, groundbreaking science
Exceptional individuals featured in new audio programs available for download
A new podcast series takes a sonic dive into the life-changing innovation happening across the University of Colorado's four campuses.
The President's Innovation Podcast is presented by CU on the Air, the collection of podcasts produced by University Relations in the Office of the President.
Innovators within the CU community and elsewhere across Colorado are discovering solutions to society's greatest challenges and breaking through boundaries to explore new frontiers. CU President Mark Kennedy created the President's Innovation Podcast to highlight these exceptional individuals and demonstrate how their work is reaching Colorado, the nation, the world and even outer space.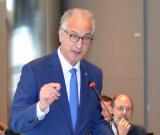 Kennedy joined one of two recently released episodes that officially launch the series. In "Building CU's Strength Through Diversity," he and Theodosia Cook, Chief Diversity Officer of the CU system, join host Emily Davies to discuss what it will take for a systemic shift at CU and in the broader community to create sustainable progress for cultural change related to diversity, equity and inclusion (DEI). Kennedy recently worked with the CU Foundation to make $5 million available ($1 million for each campus and system administration) to fund the Diversity, Equity and and Inclusion Innovation Fund.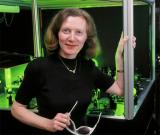 In "Exploring X-ray and Laser Science from Imagination to Application," Davies speaks with CU Distinguished Professor Margaret Murnane, a fellow at CU Boulder-based JILA. A faculty member in the Department of Physics, Murnane has earned numerous prestigious awards - including a MacArthur "Genius" Award - for her groundbreaking work in ultrafast laser and X-ray science.
Click here to find these episodes of the President's Innovation Podcast and all episodes of CU on the Air.