SPOTLIGHT
Five questions for Valerie Simons
CU system's Title IX leader aims to sustain a safe learning and working environment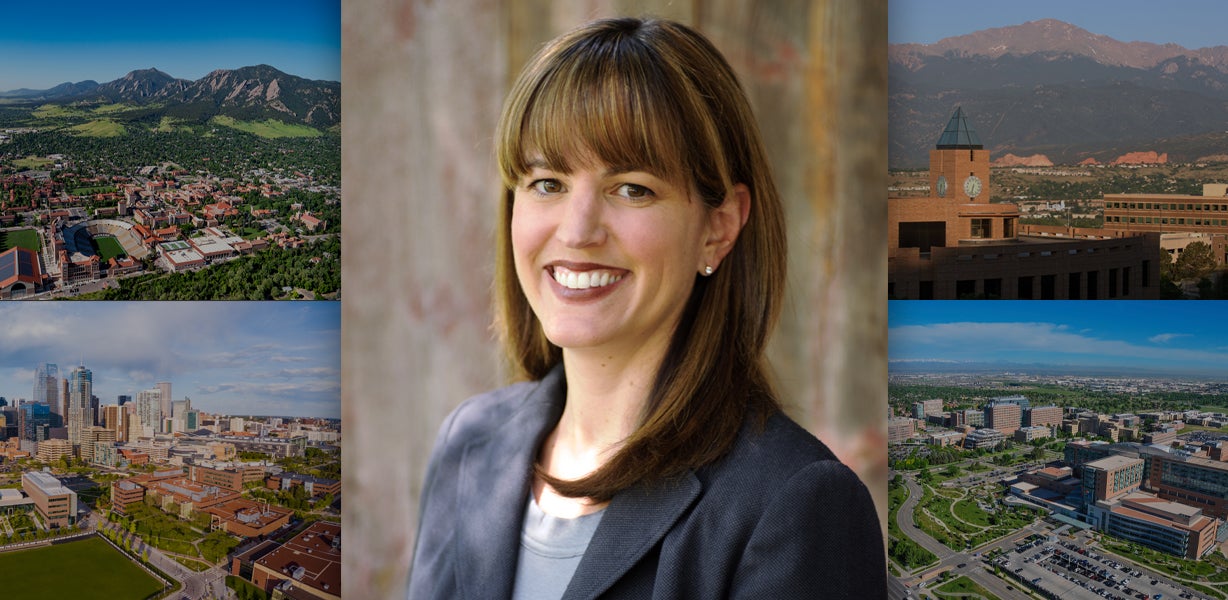 The recent 50th anniversary of Title IX and the federal announcement of proposed changes to the regulations made for fresh headlines on the topic. Regardless of the news cycle, the matter always is on the mind of Valerie Simons, the Chief Compliance Officer and System Title IX Coordinator for the University of Colorado.
"This area is one in which we are always trying to improve, always trying to do better," Simons said. "Because the issues of sexual misconduct, discrimination and harassment remain for many, unfortunately. We want to do everything we can to prevent it in the first place and respond to it promptly as soon as we have notice of it."
Last week, shortly after the U.S. Department of Education released proposed changes to Title IX, Simons shared a communication with the CU community. It notes, among other points, that the newly proposed regulations are not final and are subject to notice and comment.
"They do not change our current sexual misconduct policy and our campus-based discrimination and harassment policies," Simons said. "It's important to note, we already prohibit discrimination based on sexual orientation, gender identity and gender expression, both as Regent Policy and as state law. Basically, the proposed changes, which I expect won't take effect for a couple of years, are reinforcing what we as a university and state already protect."
Simons is convening a systemwide group with representation from all four campuses to review the proposed changes and to seek input from all stakeholders – students, faculty and staff – about what changes if any CU would need to make.
"We really are trying to lead for our system, our community and the state in this area," she said.
You took on your role as Chief Compliance Officer and System Title IX Coordinator on an interim basis last October, and now the position is permanent. What are your responsibilities in this new role?
There are three main areas of responsibility.
One, I supervise the campus-based equity offices. That's the Office of Institutional Equity and Compliance at CU Boulder, the Office of Equity at CU Denver and CU Anschutz, and the Office of Institutional Equity for UCCS.
Second, I supervise University Risk Management at the system level.
Finally, I'm responsible for supervising the Ethics and Compliance Program for system employees.
I'm housed within the Office of the President and report directly to the president.
What does your office primarily oversee, and how does the office interact with the campuses?
Each campus equity office has primary responsibility for the enforcement of three policies: the Sexual Misconduct, Intimate Partner Violence and Stalking policy; their campus-based Discrimination and Harassment policy; and the Conflict of Interest in Cases of Amorous Relationships policy.
While the campuses have the primary jurisdiction for enforcement of these three policies, the system takes the lead with the hearing process, including assigning hearing officers and advisers, which is currently required for sexual misconduct cases. We also, as requested by the campuses, facilitate appeals. Those are the primary things we, as a system office, help navigate for the sexual misconduct cases, namely because of the changes over the past few years to Title IX and federal law, which required a hearing process.
My position really came from a request from the campuses for a system-level place to align all of our practices and procedures where needed and to provide a place systemwide to hold the hearings.
What are the top priorities for you and your office?
One of things that's really promising and encouraging about my position is that, in all of the areas that I supervise now, there's a theme for all of them, which is promoting and sustaining a safe learning and working environment. That's really top-of-mind.
More specifically, we also try to remove barriers that may prevent equitable access and opportunity. Finally, in everything we do, we must uphold the highest standards of ethical and legal behavior.
Before you began your system role, you served as Associate Vice Chancellor and Title IX Coordinator at CU Boulder, from 2014 to 2021. How did you come to specialize in this area in your career?
I am a civil rights attorney by practice and training.
I also have a personal and professional background in civil rights. I grew up in Denver as part of the desegregation order through Denver Public Schools. When I talk about that "safe and equitable educational experience," that's really been the theme of my whole life. It's about understanding equal opportunity and access, yet also understanding there are true barriers to many people achieving that opportunity and access.
From understanding that early on, I dedicated my career to working for that and trying to ensure that for everybody.
After college, I went to law school, and have been a civil rights litigator pretty much my entire career until I came to CU Boulder. I worked for the U.S. Department of Justice, Civil Rights Division, Education Section. I worked as a trial attorney on behalf of the United States in federal court litigation, enforcing federal civil rights laws, including Title IV, Title VI and Title IX. After that, I transitioned back to Colorado, where I represented primarily K-12 and college students and their parents in civil rights matters.
You're a leader not just at CU, but for the state, as you chair the Sexual Misconduct Advisory Committee at the Colorado Department of Higher Education. What does this post entail?
In 2019, the General Assembly passed a state sexual misconduct bill, Senate Bill 19-007. As part of that bill, it created the Sexual Misconduct Advisory Committee. In late 2019, the Colorado Department of Higher Education sought nominations to this committee, whose job was to make recommendations to the General Assembly and institutions of higher education regarding sexual misconduct policies and methods to reduce sexual misconduct, and to draft reports regarding those recommendations.
I was nominated to be on that committee and then was voted to chair in 2019 and again in 2021. We have produced three reports for that committee, in 2020, 2021 and 2022.
One other thing I just did: One of the recommendations of that committee was to convene the higher education institutes' Title IX coordinators. So it's very similar to what we did for the CU system, which is try to bring together all our best practices, align them, and bring that model to the state: Let's start talking about how we're responding to, yet again, new Title IX regulations. I did that on June 23, which was the 50th anniversary of Title IX.