SPOTLIGHT
Five questions for John Carson
Regent's politically active life began during undergraduate years at CU-Boulder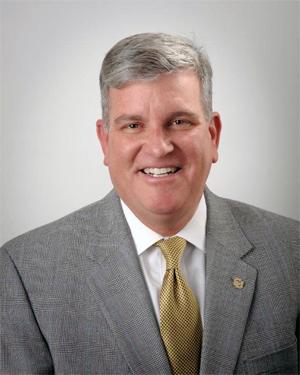 A decade ago, John Carson won election to the Douglas County Board of Education, a group he later served as president, from 2009 to 2013. Last year, the Highlands Ranch Republican won a seat on the CU Board of Regents, representing the 6th Congressional District.
It's not a stretch to say his high-profile involvement in state public education took root at CU-Boulder.
"Some things in life have such an impact, you never can shake them. The University of Colorado had that impact on me," Carson said at his swearing-in ceremony in January.
An attorney in corporate practice in Greenwood Village, he earned bachelor's and law degrees at CU-Boulder and a tax law degree from Georgetown.
"My best memories of CU are being active in campus life. I was in the student government and involved with a lot of organizations," Carson says. "I just decided I liked Boulder and CU so much that I'd hang around and go to law school there, too. I think that's probably the best indication of how much I liked CU."
His involvement in campus politics is one of the reasons in 1983 he received CU's Thomas Jefferson Award for leadership.
"It meant a lot to me," he says. "I think it's really significant, in that it's named after Thomas Jefferson, the main author of the Declaration of Independence and one of the Founding Fathers of our country, and that it's tied to the university. That was a great honor to be the student recipient of that award."
1. What interested you in serving on the CU Board of Regents?
I've been a national delegate to two Republican conventions, in 2008 and 2012, and was an alternate delegate in 2004. So I've been very active politically all my life.
I had been president of the Douglas County School Board, and I've always been interested in education issues. As an alumnus of CU, I'd always been interested in potentially serving on the Board of Regents.
2. You mentioned serving as president of the Douglas County Board of Education. How will your experience from that K-12 governance group influence your perspective as a regent?
I said this when I was sworn in: I think that education is clearly the key to success in American society. I think the United States has great opportunity, and you've got to get a good education.
I've been very active in education reform. I think public education needs more choice, more competition, more accountability. We pursued a lot of those things in Douglas County: pay for performance for our employees; an increased number of charter schools. We also passed a local school voucher program, which gives parents a choice of a whole range of schools: neighborhood, charter and private. That's currently being reviewed by the Colorado Supreme Court, which will likely render a decision in the next few months. It was upheld at the Colorado Court of Appeals.
So we were very much, and the board continues to be, on the cutting edge of education reform, and that's generally the approach I plan to take as a regent. I think public education at the university level needs to become more efficient. We've got to hold tuition costs down. By far the biggest issue I heard when I was running for regent was, we've got to find a way to control costs and keep tuition affordable.
3. You worked for years with many top leaders on Capitol Hill in Washington. How did that experience shape your perspective on politics, and did it influence your decisions to run for office?
Yes, certainly. Shortly after law school, I worked in Washington, D.C., for just over 11 years on Capitol Hill. I worked for two senators and a congressman: (Colorado's) Wayne Allard was a congressman who then became a senator; Sen. Bob Kasten from Wisconsin and Congressman Joe Knollenberg from Michigan.
I served as legal counsel for Sen. Allard; I was also his counsel when he was in the House of Representatives. I worked in legal positions for several other members of congress – also on some congressional committees. I was able to do budget committee work in the House and Senate, and banking committee work in the Senate. That was all while I was working for those senators and congressmen, so I was assigned to do work related to those committees.
I've always been interested in legislation, public policy and government. Certainly, those experiences inspired me to stay active in politics when I moved back to Colorado. In the George W. Bush administration, I served as regional director for the U.S. Department of Housing and Urban Development, from 2002-09. That was a six-state region – Colorado, Wyoming, the Dakotas, Montana and Utah. So that continued my involvement in government service and public policy.
I'm really focused on public education now. I like politics. But I like being an attorney in private practice as well: I am in-house counsel at a corporation. I've got three kids (ages 11-19) and we do a lot as a family, so I don't plan to pursue other political offices. I think being a regent will add plenty of things to my plate.
4. About five months into your six-year term, you have a few meetings under your belt (the next regents meeting is June 22-23 at CU Anschutz). What have you learned so far about the University of Colorado that you didn't know before you were elected to the Board of Regents?
In those first few weeks and while I was running, I learned a lot about how large and significant an institution it is to the state of Colorado. You have four major campuses – a major medical school, a large university in Boulder, and established and growing campuses in Denver and Colorado Springs. The budget is over $3 billion and has to be overseen effectively by the president and the regents and the administration. We're one of the largest employers in the state.
Learning things like that has impressed upon me the importance of the institution to the state of Colorado – not just to the students and alumni. We have a hugely important role to play for the entire state, and the Board of Regents has an important role in overseeing all that.
5. How do you enjoy spending your free time?
My family and I ski and we hike. I'm involved in the Boy Scouts with my son. We enjoy traveling as a family around Colorado. This last summer, we did a great trip down to Durango and Mesa Verde; we really saw the southwest part of Colorado. We like traveling around the country, too.
Last year, we went to France, which was a lot of fun. But it was also meaningful, as we attended ceremonies related to the 70th anniversary of D-Day in Normandy. I'm very interested in history, and I like to share that with my kids. My wife and I think it's really important to give them an appreciation of American history and world history. For our kids to see the D-Day beaches and Normandy, to visit the American cemetery at Omaha Beach, it was very moving. It helps them appreciate the Americans who came before them and who sacrificed so they can live in such a great country.