SPOTLIGHT
Five questions for Callie Rennison
Regent and CU Denver professor says faculty perspective strengthens the board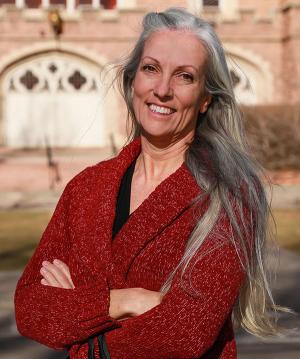 Voters in Colorado's 2nd District last November elected Callie Rennison, D-Superior, to represent them on the Board of Regents. She also can't help but bring another perspective to the nine-member board, that of a current faculty member at one of the university's campuses.
Rennison is a professor in the School of Public Affairs at CU Denver, where her research focuses on sexual and gender-based violence, as well as violence perpetrated against college students, women and marginalized groups. Her leadership roles have included associate dean of faculty affairs at CU Denver, and director of the Office of Equity and Title IX coordinator at CU Anschutz and CU Denver.
1. How do your experiences as a faculty member at CU Denver affect your perspective as a member of the Board of Regents?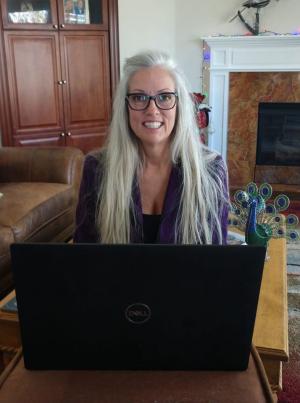 Being a faculty member has strongly influenced my perspective on the board. There is simply no substitute for living the experiences of our faculty, and working daily with our students and staff to understand what they believe is important, and issues we'd like addressed.
An important way being faculty informs my work as a regent is to be able to share firsthand how the pandemic is affecting not only our students, but also our staff and faculty. We all have some degree of fatigue and burnout – yet we are all doing the best we can. Remembering this in our decisions is crucial.
Another important way being a faculty member informs my work on the board is that I bring an understanding and appreciation of faculty governance, which requires a collaborative relationship among regents, administrators, the president and other stakeholders in the system. Faculty governance is one way that universities differ from other institutions, and recognizing this important relationship is critical in the work the board does.
In addition, the service work I've engaged in is useful. For instance, time I've spent on committees focused on hiring, promotion and tenure allows me to share with others how these processes work.
In short, being a faculty member is invaluable, and the perspectives I bring to the board as a result of this work strengthens our board.
2. In what ways has the pandemic proved most challenging as you take on a new role as a member of the Board of Regents?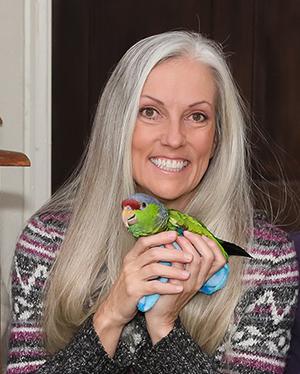 While the pandemic has been devastating in terms of lives lost, health issues and economic battering, in terms of serving as a regent, it hasn't proved to be tremendously challenging. Given the widespread use of Zoom, the board has been able to meet as needed to conduct our work. In fact, it may be that I am able to attend more meetings than I would have normally since I don't have to build in time for commuting on RTD in my day.
Another unexpected silver lining of the pandemic is that I've thoroughly enjoyed meeting others' pets on Zoom. My parrots have also enjoyed watching people in the Zoom calls and interjecting their thoughts on occasion.
Still, there are elements of being on the board during a pandemic that, while not challenging, are opportunities missed. For example, in January, the new board member swearing-in was virtual, our committee meetings are virtual and there has been no opportunity to connect in person and get to know one another. We have also been unable to tour parts of the system and meet the people doing incredible work at places like the Lyda Hill Center for Human Resilience at UCCS. That said, I recognize that in the scheme of things, these are minor and temporary inconveniences compared to losses experienced by so many.
3. What have you learned about the University of Colorado that you didn't know before you were elected to the Board of Regents?
I did not anticipate how much I'd love learning more about all the people doing incredible work throughout the system. I have always known that there are amazing faculty and staff on all of our campuses, but I haven't had the opportunity to hear details about much of this work, especially on other campuses.
For example, as regents, we honor our university's Distinguished Professors. Without being on the board, I would not have had the opportunity to learn about these individuals and their research.
A second thing that I have learned is how much the regents do not have control over. Many issues that arise are campus-level issues, and the regents have no authority to manage them. For example, regents do not hire and fire faculty. They do grant and can revoke tenure, however. Still, hiring and firing faculty is a campus-level decision – for good reason. I recognize that many people wish the regents would address certain issues, but often, we simply do not have the authority to do so.
4. You once worked in the U.S. Department of Justice's Bureau of Justice Statistics in Washington, D.C. What was the nature of your work and how were you able to draw on that experience in your teaching and research?
I loved living in Washington, D.C., and working at the Bureau of Justice Statistics (BJS) under both the Clinton and Bush administrations. Having this real-world experience informs my approach as a professor.
One way it shows is that I focus on teaching students to be critical consumers of information. I can direct them to many original sources of data to assess claims made by others, versus accepting what they hear or read. As a professor, I work hard so students understand research methods so they can intelligently assess the claims made in research and elsewhere.
My work at BJS absolutely informs how I teach research methods and statistics. Both are taught in slightly unorthodox ways, but ways that give students the strongest skills that benefit them in the real world. For example, my graduate statistics course requires our students to develop a consulting agency name on Day One. All homework involves taking data from a fictional client, and writing a professional consulting report. The consulting report requires students to identify the research question at hand, why it's important, selecting and justifying an analytic technique to answer the question, and describing findings in a way that is understandable by people without statistical training.
Working at BJS showed me that while many people can "do" statistics, and many people can write, few can write about statistics in a way that is accessible to all. Relatedly, I established a Crime Analyst Certificate in the School of Public Affairs. This certificate is important, as I saw firsthand that developing quality research and being a critical consumer of information are skills in demand, that they offer a variety of career opportunities, and they allow students to themselves create quality research that benefits society. These sorts of skills benefit our students long after they graduate.
5. How do you enjoy spending free time?
I spend much of my free time climbing. Before it got cold, I was able to get to Eldorado Canyon more, but now my climbing happens in the gym at Boulder Rock Club. Climbing requires puzzle solving, power, finesse, technique and figuring out how I can climb a route given my own strengths and weaknesses. I love being able to get into the gym, climb hard for several hours and still have a lot of time in my day to work as a board member and a faculty member.
I also love being at home and spending time with my five parrots and husband, Dave – when he's not off somewhere climbing himself. We recently adopted a senior parrot, Chico, who is 33 years old and had been at a rescue for 22 years. He has brought a lot of joy to the flock and family.
I also enjoy sewing bags, purses and wallets. I enjoy this because it requires technical skill and allows me to acquire and use many tools and machines. There is something very attractive about engaging in an activity where there is always room for improvement.