SPOTLIGHT
Diversity effort breaks down communication barriers
Staffers at CU Boulder helping one another gain tech skills to boost engagement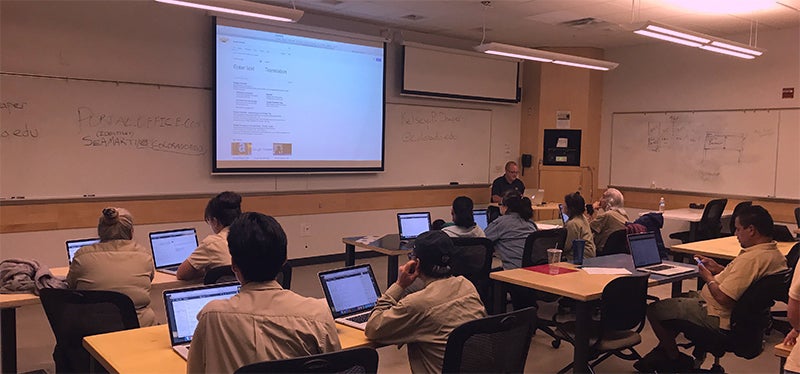 Computer access and use is an aspect of work life that many – especially those who grew up tech natives – take for granted. For some, though, the conveniences enabled by modern devices often remain inaccessible.
Colleagues in the Department of Infrastructure and Sustainability at CU Boulder knew other staffers who could benefit from some tech tutoring. Their effort – Literacy Training for English as a Second Language and Frontline Service Workers – received a 2018-19 Diversity and Inclusive Excellence Grant, a systemwide program.
Project authors Kelsey Draper, Claude Masson, Nancy Portner and Shawna Stushnoff say the initiative is a boost in professional development for engagement with others in the CU Boulder community.
While technology is made available to staff at the university, some have arrived with little tech experience, which can create barriers to electronic communication. For English as a Second Language staff members, the language barrier compounds the communication gap.
"I used to send out emails with information on engagement opportunities," Draper said. "A lot of our custodians and frontline workers weren't checking their emails."
That inspired the launch a few years ago of a computer literacy class for frontline staff. Similar classes have met with success in CU Boulder's Housing and Dining Services and at Colorado State University, Draper said.
"I recently was working with a custodian who had been working here for 25 years," Draper said. "We helped her send her first email to her granddaughter."
The current program consists of six weekly, 90-minute classes.
"It's hard for anyone to learn those skills with that little time," Draper said. "A lot of the staff we work with don't have access to computers at home."
To change that, this year's grant will be used to help purchase tablets or refurbished laptop computers. Staff members who are enrolled in the class will be able to check out the devices for practice at home. The rollout is planned for this fall.
To learn more about the computer literacy training at CU Boulder, contact Kelsey Draper at Kelsey.p.draper@colorado.edu, and see the Infrastructure and Sustainability computer literacy website at https://www.colorado.edu/fm/computer-training.