SPOTLIGHT
Champion for child cancer patients receives Chase Faculty Community Service Award
CU's Jeffrey Druck, M.D., a leader in emergency medicine education, volunteer for Camp Wapiyapi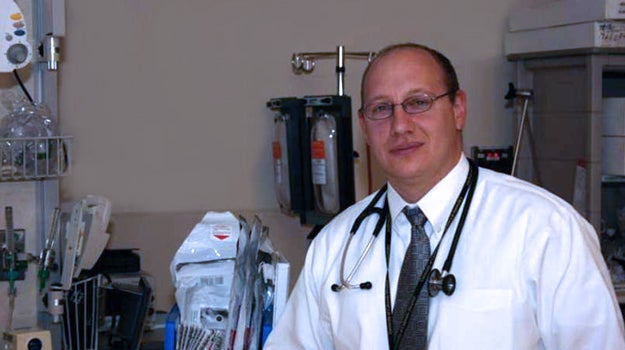 Jeffrey Druck, M.D., associate professor of emergency medicine in the University of Colorado School of Medicine at the Anschutz Medical Campus, has been honored with the 2015-16 Chase Faculty Community Service Award.
The annual recognition goes to a full-time CU faculty member who provides exceptional service to the community. An advisory council recommends an award-winner to CU President Bruce D. Benson, who bestows the honor, which includes a $10,000 endowment funded by a grant from Chase.
Druck is president of the board of Wapiyapi, a camp for children who have been diagnosed with cancer and for their brothers and sisters.
His association with the nonprofit began in 2000 while he worked as a resident in the Denver Health emergency medicine program. Initially volunteering as a camp physician, Druck later became a member of the board he now leads, having dramatically increased its fundraising success. He also continues to recruit fellow School of Medicine faculty and Emergency Medicine residents to provide volunteer medical supervision at the Estes Park camps.
Under Druck's leadership, Camp Wapiyapi has grown over the past four years from serving 160 children to 240 children annually, with the annual budget increasing from $230,000 to more than $400,000.
"There is no question that Jeff is an integral part of Camp Wapiyapi, and has been for many years," wrote CU colleague Kristen Nordenholz, M.D., in a letter supporting the award nomination. "He is a staunch camp supporter, board member, fundraiser and volunteer, and he manages all of this in his spare time, despite four children of his own! Jeff epitomizes the best of humanitarian services which the Chase Award honors."
On the job at the Department of Emergency Medicine since 2004, he was promoted to associate professor in 2010, and continues to dedicate himself to the education of medical students and residents. Druck was formerly an associate program director for the Emergency Medicine Residency Program and is the director of the integrated clinician course for third- and fourth-year medical students at the School of Medicine. His work has been recognized with honors and awards from the American College of Emergency Physicians, the Academy for Diversity and Inclusion in Emergency Medicine, and the Denver Health Residency Program in Emergency Medicine, among many others.
"I am truly honored to receive this award," Druck said. "It is immensely gratifying that we will be able to send additional kids to camp, due to the generous donation by Chase."
The Chase Faculty Community Service Award – established in 1991 with a $100,000 donation – is funded annually by an endowment from the JPMorgan Chase Foundation through the CU Foundation. The endowment provides an annual award of $10,000 to a full-time faculty member at the University of Colorado who has rendered exceptional service in his or her community.
Chase is the U.S. consumer and commercial banking business of JPMorgan Chase & Co. (NYSE: JPM), a leading global financial services firm with assets of $2.4 trillion and operations worldwide. Chase serves nearly half of America's households with a broad range of financial services, including personal banking, credit cards, mortgages, auto financing, investment advice, small business loans and payment processing. Customers can choose how and where they want to bank: 5,300 branches, 15,500 ATMs, mobile, online and by phone.