'Rising Star' sings praises of UCCS education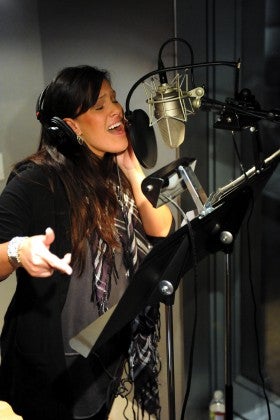 Oct. 7, 2011 -- A military spouse understands the challenge of frequent relocations all too well. Alumna Lisa Pratt, whose husband is in the Army, attended three colleges in three years before landing at the University of Colorado Colorado Springs. But it was at UCCS that Pratt found her voice and the outstanding faculty support that assured her success – despite being challenged with severe dyslexia. Through the mentorship of her music and theater instructors and an outstanding Army program called Operation Rising Star, Pratt toured the country singing for the troops and cut a CD that was released in August.
"I've been able to do what my profession is and still be with my husband. It's been huge in my life," she said. "I get to do what I love."
Operation Rising Star is an Army program that provides soldiers and their family members an opportunity to reach their dreams of becoming a recording artist. "It's the Army's version of American idol," Pratt said.
Completing her bachelor's degree in visual and performing arts at UCCS in May 2009 helped give Pratt the confidence to take part in that year's competition at Fort Carson. She won. She next bested other installation winners and quickly found herself being flown to Fort Belvoir in Washington, D.C., to compete with 11 other finalists.
During the next two and a half weeks, Pratt went up against other bright talents before she was chosen the 2009 national 'Star.'
"The biggest thing is the winner gets to go record in L.A. I got to bring my husband with me, who recently had gotten back from Iraq," she explained. A CD featuring Pratt and winners from 2008 and 2010 was released last month.
Among her adventures that year, Pratt opened for singer Leigh Jones' Army Tour, performed at the release of a book by Scotty Smiley – a decorated soldier blinded in Northern Iraq – and dotted the country performing at military installations and Christian gatherings.
She lived a dream that was achieved with her tenacity and the support of dedicated UCCS faculty who believed in her.
"Suzanne MacAulay (chair and associate professor) – there are no word to describe her. She's amazing," Pratt said. "She helped me from the get-go get what I need."
She praised Glenn Whitehead, director and assistant professor of voice teaching, for his tutelage and touted former UCCS instructor Cynthia Cox for her growth as a singing artist. "I stayed with her after college because she was so good," she said. "When I recorded in L.A. she helped me learn my music.
"Even after I graduated, they took an interest in me. That's huge for the university to have teachers who keep up with their students . . . That speaks volumes to someone like me."
Pratt admits that, initially, UCCS was simply the best choice for her career interests while her husband was stationed at Fort Carson. Now, she realizes, it was the best choice period.
"I'm severely dyslexic and every teacher at UCCS was amazing. It's the best college I ever attended."
Pratt's husband is now stationed in Afghanistan; she is keeping busy at Fort Sill in Lawton, Okla., performing at church gatherings and military events throughout the Midwest. Her education and Operation Rising Star, part of the Army's Morale, Welfare and Recreation program, have helped jump-start her future.
"A big thank-you to the Army for providing opportunity for families — it's a huge deal. The Army provides for families," she said. "Looking back on my time at UCCS, I'm so glad I got that degree, it was a really well-rounded degree."