PEOPLE
Wartgow named chancellor emeritus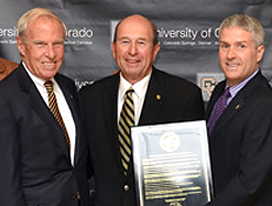 Jerry Wartgow, who recently stepped down from the role of chancellor at the University of Colorado Denver l Anschutz Medical Campus, was named chancellor emeritus by the Board of Regents in recognition of his service and leadership during challenging economic times.
A resolution of thanks recognized Wartgow for creating strong partnerships and civic engagement with the community. His efforts included the Admissions Promise with community colleges, the Boots to Suits program with the Denver Chamber of Commerce, a new partnership with the Hispanic Scholarship Fund, and many industry collaborations at the business school.
Wartgow, who gave credit to his leadership team, called the recognition a huge honor.