PEOPLE
Walker performs world premiere in Washington, D.C.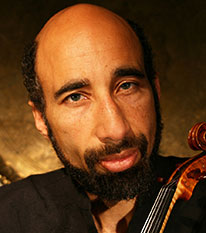 Gregory T.S. Walker, professor in the University of Colorado Denver College of Arts and Media (CAM) in the string program, performed the world-premiere of Pulitzer Prize-winning composer George Walker's "Bleu" for solo violin at the Library of Congress in Washington, D.C., on April 20. George Walker is Gregory's father.
The younger Walker performed playing a new computer-scanned "Betts" Stradivarius violin copy, known as the "Oberlin Betts." Walker observed that the premiere "wasn't too bad; it's never easy to get used to a new instrument on short notice."
A compact disc of Gregory Walker's own symphonic electric guitar music, "Electric Vivaldi: Global Solstice," is scheduled for release next month from Centaur Records. It was co-produced by CAM Associate Professor Leslie Gaston. Walker also performed the "Electric Vivaldi Guitar Concerto" (from the CD) with the Northwest Civic Orchestra in Powell, Wyo., on May 4.