PEOPLE
UCCS faculty, staff tackle tough issues at conference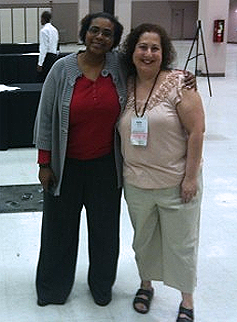 A cadre of University of Colorado Colorado Springs faculty and staff spent spring break teaching and learning about the advantages that are often provided to groups of people based on their social identities.
The attendees of WPC 13 in Albuquerque March 28-31 did everything from leading workshops to assisting some of the more than 1,300 participants with anything from getting lunch to processing complex emotions.
The recent Florida shooting of black teenager Trayvon Martin served as a backdrop and fueled discussions about the advantages associated with being white, including the presumption of innocence.
WPC stands for White Privilege Conference, a term that organizers freely admit can be polarizing. The group seeks to build relationships and understanding across differences in race, gender, religion, sexual orientation and other identities.
The year's conference theme: "Intersectionality: Vision, Commitment and Sustainable Partnership," signals the conference's focus beyond only race. Since 2007, WPC has been institutionally housed at UCCS, specifically the Matrix Center for the Advancement of Social Equity and Inclusion. The conference rotates locations and relies on local volunteers and sponsors. In Albuquerque, the New Mexico Equity and Social Justice Alliance was a collaborator as was the University of New Mexico. Next year, the conference will be in Seattle.
Presenting at the conference were: Abby Ferber, director, Matrix Center, and professor, sociology and women's and ethnic studies; Lynda Dickson, associate professor, sociology; Heather Albanesi, associate professor, sociology; Jeff Montez De Oca, assistant professor, sociology; Dena Samuels, assistant professor, women's and ethnic studies; Andrea Herrera, professor, women's and ethnic studies; Janice Gould, assistant professor, women's and ethnic studies; Carole Woodall, assistant professor, women's and ethnic studies and assistant professor, history; Christina Jimenez, associate professor, history; and Daryl Miller, former program assistant, Matrix Center.
 Marguerite Cantu, senior instructor, communication, volunteered and assisted with registration and other event details. Marqita Jones, program manager, Matrix Center, served as the event's primary staff member and volunteer organizer.
For more information about the WPC, and related year round programming, visit http://www.whiteprivilegeconference.com/