PEOPLE
Rishi Raj honored by The American Ceramic Society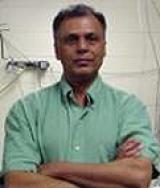 Rishi Raj, professor of mechanical engineering, was named a 2015 Distinguished Life Member by The American Ceramic Society.
Raj has studied oxides and non-oxides to understand a wide range of behavior phenomena, including high-temperature creep, superplasticity, interfaces and amorphous phases and their role in sintering and creep, sintering mechanisms, and polymer-derived amorphous materials. Most recently, he has turned his attention to understanding electric field effects on sintering and defect chemistry, also called "flash sintering."
He will be inducted at The American Ceramic Society's Annual Awards and Honors Banquet on Oct. 5, in Columbus, Ohio.
The Distinguished Life Member award—the highest honor accorded to members of the scientific and technical organization—recognizes an individual's eminent contribution to the ceramic and glass profession.