PEOPLE
Potter a charter fellow of National Academy of Inventors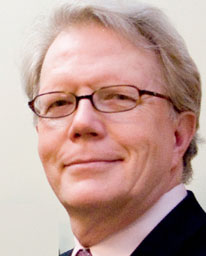 Huntington Potter, professor and director of Alzheimer's Disease Research in the School of Medicine Department of Neurology and the Linda Crnic Institute for Down Syndrome, recently was inducted into the National Academy of Inventors (NAI) as a charter fellow.
The research of Potter and his colleagues is devoted to laboratory and clinical investigation of neurodegenerative diseases, particularly Alzheimer's disease (AD) and trisomy 21/Down syndrome (DS), which also induces AD by age 40. The team hypothesized and showed that AD patients develop trisomy 21 and other aneuploidy cells, including neurons, during the course of their life and thus that AD is a mosaic form of DS.
Potter is one of 101 innovators from 56 research universities and nonprofit institutes named as inaugural fellows. Collectively, the new fellows hold more than 3,200 U.S. patents. Included in this group are eight Nobel Laureates, two Fellows of the Royal Society, 14 presidents of research universities and non-profit research institutes, 53 members of the National Academies (NAS, NAE, IOM), 11 inductees of the National Inventors Hall of Fame, three recipients of the National Medal of Technology and Innovation, four recipients of the National Medal of Science, and 31 AAAS Fellows, among other awards and distinctions.