PEOPLE
Obituary: L.S. 'Sam' Skaggs
By Dana Brandorff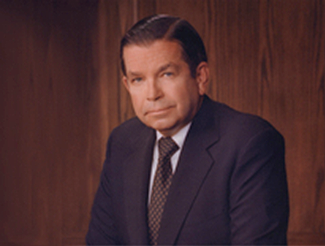 L.S. "Sam" Skaggs, whose unwavering support of pharmacy education and research helped transform the University of Colorado Skaggs School of Pharmacy and Pharmaceutical Sciences into one of the top pharmacy schools in the country, died March 21, 2013. He was 89.
Skaggs built American Stores Company into a retail food-and-drug giant, but the Utah businessman also fostered a widespread interest in promoting pharmacy and pharmaceutical sciences. He and his family's ALSAM Foundation donated millions of dollars to the school to help build two buildings – one at Ninth Avenue and Colorado Boulevard and the newly built School of Pharmacy and Pharmaceutical Sciences at the Anschutz Medical Campus, which opened in 2011 – and support ongoing research programs.
"Sam Skaggs was an exceptionally successful businessman, entrepreneur and philanthropist," said Ralph J. Altiere, Ph.D., dean of the Skaggs School of Pharmacy. "He was dedicated to supporting pharmacy education and research in the Western United States, having provided significant funding for many years to six pharmacy schools. Our school has been extraordinarily fortunate to have been a recipient of his generosity for over 20 years and we continue to receive support through his foundation."
The Skaggs School of Pharmacy and Pharmaceutical Sciences, named in Sam Skaggs' honor, is a national leader in pharmaceutical education and research. In September 2012, representatives from all six Skaggs pharmacy schools, the Scripps Research Institute and the ALSAM Foundation participated in the LS Skaggs Biomedical Research Symposium. The symposium, hosted on the Anschutz Medical Campus by CU's Skaggs School of Pharmacy and Pharmaceutical Science, provided an opportunity for scientists from these distinguished institutions to share new and innovative research and encourages collaboration across institutions through the Skaggs Scholars program.
"Sam Skaggs was one of those rare individuals who combine exceptional business acumen with character, inquisitiveness, compassion and generosity of spirit. He was a true visionary who led a remarkable life. His legacy will continue to inspire all of us," said Lou Diamond, Ph.D., dean emeritus of the Skaggs School of Pharmacy.
Skaggs, who lived in Salt Lake City, built his business and fortune growing American Stores Company, which he took over after his father died from a stroke in 1950. He was 27. During the next 45 years, he conceived and developed the food/drug combination store -- arguably the most significant new retailing concept of the last half of the 20th century. By the time he retired in 1993, Skaggs headed one of the largest food companies in the world, with 1,700 stores in 26 states, more than 280,000 employees and annual revenue exceeding $20 billion. But mostly he will be remembered for his generosity and philanthropy.