PEOPLE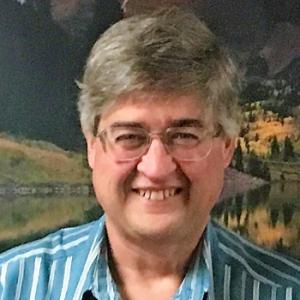 Editor's note: This remembrance was submitted by Rahwa Netsanet, a Professional Research Assistant in the CU School of Medicine at the Anschutz Medical Campus.
On Dec. 20, 2016, the Department of Psychiatry suffered a great loss. Randy Ross, M.D., an accomplished and treasured member of the department, passed away.
A memorial service is scheduled for 4-5:30 p.m. Monday, Feb. 27, in the Shore Auditorium in the Nighthorse Campbell Building.
Ross graduated from the University of California at Santa Barbara in 1983 and received his medical degree from Yale University School of Medicine in 1987. He came to the University of Colorado in 1993 as a young researcher, joining the Developmental Psychobiology Research Group (DPRG) training program.
Ross came to learn the methodologies of schizophrenia research and apply it to learning more about childhood onset schizophrenia. Despite being a rare diagnosis, Ross found more cases than were expected, said Robert Freedman, M.D., recalling Ross' early years at CU Denver. Concerned that the young researcher was finding diagnoses where he wanted to see them, the head of Child Psychiatry at the National Institute of Mental Health (NIMH), Judy Rapoport, was invited to interview a few of the children that Ross had evaluated. To everyone's surprise, she confirmed Ross' diagnoses. This made him stand out as a diligent and astute thinker.
Ross decided to remain at CU Denver, working in research to advance understanding of the roots of mental illness. He was particularly interested in choline research, a lead that followed prior findings about the neurobiology of schizophrenia and related mental illnesses.
"He was often the smartest person in the room," said Doug Novins, vice chair and director of Child and Adolescent Psychiatry, who joined the DPRG program shortly before Ross. "His work on really trying to prevent serious mental illness was visionary and groundbreaking."
Ross was very dedicated to his work, and was extremely invested in aiding future researchers, eventually becoming vice chair of the DPRG program that began his own career on this campus. He also took leadership roles in the research track in the CU School of Medicine, for which he would make time to meet with students individually and aid in their professional development.
"He was extremely generous with his time," said Linda Greco-Sanders. "He tried to toughen people up to criticism because he said it is just part of the whole experience and it's nothing personal, one of the hardest but most important lessons for young scientists starting out to learn. If that meant telling his own stories of humiliating criticism from grant submissions, he shared it. The important thing to him was to impart knowledge."
He gained the reputation of being harsh but fair. Camille Hoffman, M.D., who worked with Ross for over eight years as a mentee and a partner in his research, called this "getting Randied." This was a blessing in disguise. Anyone who received feedback from Ross was bound to be challenged, but always grew from these interactions. When the road got difficult, Ross would often say to her, "You can choose whether you want a job or a career." Hoffman said that to Ross, either was a good option, but you had to be aware of what would keep you driven.
"He had plenty of acquaintances, people he'd trained with, or friends, who chose to do psychiatry as a job," Hoffman said. "But he had opted to have a career with research and questions, and answering questions, and posing hypotheses – and he felt like that was a lot more sustaining."
Amanda Hutchison, M.D., who was mentored by Ross beginning her second undergraduate year, also describes his personality as a balance of humor and austerity.
"For Randy, work was work, but he also recognized there was a lot of levity in life," said Hutchison, who credits him for the path she has taken in her own life. Though he encouraged her to go into research, he also emphasized to her that it is important to do what you are passionate about. "I wouldn't be a psychiatrist if it weren't for Randy."
This dedication to growth was not limited to his roles in DPRG or in the School of Medicine research track.
"I think one of his best-kept secrets is that he mentored everyone that he supervised – regardless of their role," said Stephanie Vetter, who is the grant manager for his and other labs in the Department of Psychiatry.
Kristin Uhler, Ph.D., a research partner and mentee of Ross' who began working with him in 2012, agreed. "I think the legacy he leaves is those he's mentored," she said.
Ross was a steadfast yet warm man who could "weather any storm and stay patient, stay calm," said Kate Noonan, the lab manager for his research team. Having worked with him for almost 12 years, she recalls his dedication and passion for science and his love for teaching.
"I admired how he could challenge people without pushing them too far," she said. "A true pet peeve of his was not working to your fullest ability." This applied to himself as well as others. He saw that discipline went hand-in-hand with progressing as an individual and as a team. After meetings or moments of commiseration, he would often say, "OK, let's get back to work."
Ross' life was dedicated to his research and his family.
"The back of his car was covered in bumper stickers indicating where his three kids had gone to college," Vetter said. When asked about his greatest achievement, Noonan replied, "His family." Ross preferred to maintain his privacy, but it was clear that he was just as committed to his home and family as he was to his work.
Although he tried to keep focused, there were those moments of lightheartedness that gave us a glimpse into his life and story. These are a few little-known facts about him shared by some of his closest colleagues: He grew up in Santa Barbara, California, and had a Farrah Fawcett haircut at one time. He liked to listen to '70s rock in his office in the mornings and always had one shoe untied. He was a direct descendent of Jesse James. He also loved to travel – he even hitch-hiked across the country when he was 18.
Though I did not get the time to know him well, I did get a bit of the 'Randy Experience' myself. I began working in Dr. Ross' lab less than six months before his passing. He was very generous with his time and spoke with me about graduate programs one afternoon. I anticipated speaking with him for 10 minutes, but I was surprised that after an hour he was still taking the time to answer my questions. I was very appreciative of his time and reflect often on that conversation.
His research on choline will continue under Hoffman, a longtime partner in his research and OB-GYN at St. Joseph's Hospital, and Freedman.
Although we have to say goodbye to Randy, his work lives on. And I'm sure he would be happy to see that we will all be getting back to work.