PEOPLE
Lundquist honored for wind energy research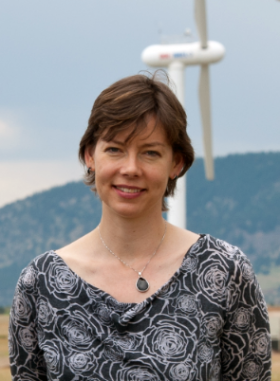 Julie Lundquist, assistant professor at the University of Colorado Boulder with a joint appointment at the National Renewable Energy Laboratory, was honored with the Rising Star Award at the Women of Wind Energy's (WoWE) annual luncheon at the American Wind Energy Association's WINDPOWER 2013 Conference in Chicago last week. The award is given to a woman who is relatively new to wind energy but already is making significant professional contributions by demonstrating talent, dedication and innovation in her renewable energy work.
Lundquist's research group explores the dynamics of the atmospheric boundary layer – the layer of atmosphere closest to the Earth, with applications to wind energy, urban meteorology, and surface-atmosphere interaction.
"Highlighting and recognizing the stories of incredible women and men like this year's WoWE Annual Award winners is critical not only to recognizing and appreciating their successes, but also to help other women in the sector see role models and new career pathways," says Kristen Graf, WoWE executive director.