PEOPLE
Leinwand elected to American Academy of Arts and Sciences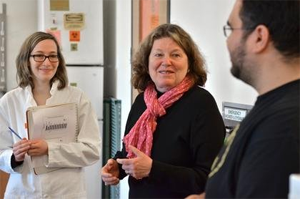 Leslie Leinwand, chief scientific officer for CU-Boulder's BioFrontiers Institute and a professor of molecular, cellular and developmental biology, has been selected as a member of the 2014 class of the American Academy of Arts and Sciences, which honors the leading "thinkers and doers" from each generation, including scientists, scholars, writers and artists.
Leinwand is an expert in cardiovascular disease.
"Her election to the American Academy of Arts and Sciences is an outstanding recognition of Leslie's scientific contributions to understanding the biology of the heart," said BioFrontiers Institute Director Tom Cech, who also is a distinguished professor of chemistry and biochemistry. "Leslie has made a career of fearlessly and creatively approaching challenges, like heart disease, by searching for answers beyond her field and beyond what we think could be possible."
Leinwand's research opens the door to the possibility of personalized treatment for heart disease. She has shown that the mechanisms of heart disease differ between males and females and that the genetic risk of the disease is impacted by both gender and diet. Leinwand's lab also has studied the blood of Burmese pythons, which has the unusual property of greatly increasing the size of the snake's internal organs, including the heart, after a large meal, a feature that could also have implications for combating human heart disease. Her research has shown that this enlargement shares features with the response of the human heart to chronic exercise.
The American Academy of Arts and Sciences was founded in 1780, and members have included George Washington, Benjamin Franklin, Daniel Webster, Ralph Waldo Emerson, Albert Einstein and Winston Churchill.