PEOPLE
Leeds Finance, Federal Reserve Bank discuss real-world bank management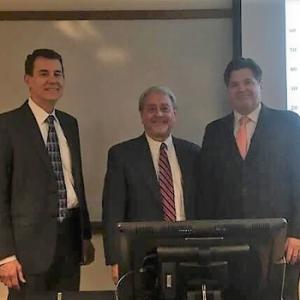 Federal Reserve Bank of Kansas City senior examiners Andy Pobywajlo and Patrick McNellis met with Leeds School of Business bank-management classes on Feb. 9 to present an overview of the financial status of U.S. banks and current perspectives and focus on banks' safety and soundness.
"The news is basically good," said Roy Franc Baas, senior instructor at Leeds. "Banks' capital positions and earnings are strong, especially in the 'mountain banks,' including Colorado, Wyoming and northern New Mexico."
Students in FNCE 4000, officially titled Financial Institutions Management, focus on understanding causes of U.S. and worldwide banking problems, similarities in causes of those problems, current management focuses, and how banks are managed during critical financial crises and good times.
Pobywajlo, father of a CU Boulder student, predicted normally recurring cycles of asset "bubbles," just as have happened during past business cycles, but stressed that the banking industry is in very good shape to withstand the down-sides of the cycles. McNellis focused on key risks faced by directors and senior officers in their quest for stable financial results and understanding of the complex components of banks' financial, supervisory and asset-liability management.