PEOPLE
Krause-Parello receives national award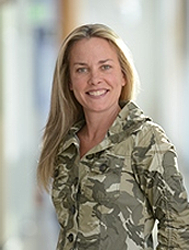 Cheryl Krause-Parello, assistant professor at the College of Nursing, recently was honored with the Jessie M. Scott Award by the American Nurse Association.
The award was established in 1979 to honor Scott, former assistant surgeon general and director of the Division of Nursing Health Resources Administration, Public Health Service, of the U.S. Department of Health, Education and Welfare. It is presented to a registered nurse whose accomplishments in a field of practice, education or research demonstrate the interdependence of these elements and their significance for the improvement of nursing and health care.
This national award recognizes Krause-Parello's efforts as an advocate for interdependent relationships among nursing educators, practitioners and research interests.
Krause-Parello is widely known for improving the health of wounded warriors through animal-assisted interventions. She has built a portfolio of scholarship and advanced research measuring psychobiological outcomes of animal interaction among military veterans, culminating in October 2013 when she founded C-P.A.W.W. — Canines Providing Assistance to Wounded Warriors — a health initiative for veterans at the University of Colorado Denver. Through this program, she has created a network of veterans' organizations and health care facilities to partner in her research and, based on her findings, to implement animal-assisted interaction to improve military health.
Krause-Parello also is co-leading an innovative research initiative, Working Dogs for Wounded Warriors: Effects of Animal-Assisted Therapy on Post-Traumatic Stress Disorder, which is set to begin soon at the Walter Reed National Military Medical Center in Bethesda, Maryland.
Her research has been integrated into global nursing practice, published in multiple peer-reviewed journals and published in her first book on pet attachment.