PEOPLE
Kaukinen to lead Respect on Campus program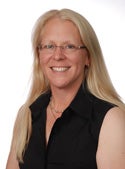 Katie Kaukinen, associate professor at the School of Public Affairs at the University of Colorado Colorado Springs, will lead a new interpersonal violence prevention program, Respect on Campus, with the goal of teaching faculty and staff to effectively intervene when students appear to have experienced interpersonal violence or when an abusive conversation is overheard.
This semester, Kaukinen and a team of peer educators will visit UCCS classes to empower faculty and students to prevent violence.
"Too often, we're in a situation where we see something that we sense is wrong but we don't know what to do," Kaukinen said. "The goal of this program is to mobilize us as individuals to take action and to demonstrate that we, as a campus community, will not tolerate interpersonal violence, including sexual assault, domestic violence, dating violence and stalking."
Kaukinen understands that talking about subjects such as sexual assault, stalking, or what makes a healthy relationship, can be difficult. Far more difficult, however, is learning that someone was the victim of violence and wondering if you could have helped, she said. Kaukinen and a team of student educators have several planned programs on topics ranging from stalking and technology to violence in the workplace. But she emphasized that each subject can be tailored to meet the needs of a specific instructor or course.
"We tailor our content and approach to meet the unique needs and interests of your students," Kaukinen said. "If the class is a science class, we might cover the medical perspective of trauma or the technical side of stalking. For a humanities course, we might offer an interactive theater or a literature discussion. We want to make the topic relevant to faculty members and your students."