PEOPLE
Gannon returns as director in Office of Grants and Contracts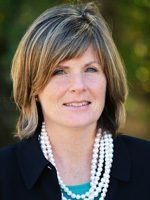 Amy Gannon is the new director in the Office of Grants and Contracts (OCG) based at Anschutz Medical Campus. Prior to her new position, Gannon was the director of Procurement Systems and Payable  Services at the CU System – work she started in 2010. Before that, Gannon worked with the health sciences programs for 10 years. In 2005, Gannon was the interim director of Sponsored Projects for CU Denver before the consolidation with CU Anschutz.
In these roles, she had progressive administration and compliance oversight responsibilities. Gannon also has been involved with financial compliance reviews involving sponsored projects as well as other fiscal and human resource policies. These reviews have involved working with Legal Counsel, Finance, Human Resources and OCG.
A key part of her work will be to strengthen ties with the research community by working with our schools/colleges/departments to build a partnership in research administration. She has started her position by scheduling initial outreach meetings to introduce herself and discuss the research administration partnership.
She also was involved with the development of sponsor-project compliance polices including direct charging (A-21 compliance) and clinical trials. Another area Gannon has worked in is helping to develop oversight reports for principal investigators and fiscal managers to assist with timely review of expenses on federally-sponsored projects for A-21 compliance.
Gannon has been heavily involved in implementing information technology to increase the efficiency of processes. Specifically, she was the project manager for the implementation of the CU Marketplace. And, she is knowledgeable about the university's financial reporting system and policies.