PEOPLE
Comstock recognized for advocacy in youth sports safety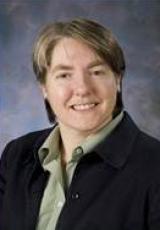 Dawn Comstock, associate professor of epidemiology at the Colorado School of Public Health, recently was honored as a Youth Sports Safety Ambassador. The award was presented during the sixth annual Youth Sports Safety Summit in Dallas, where she also delivered new research findings.
This inaugural award from the National Athletic Trainers' Association (NATA) was presented to three recipients. The honor recognizes individuals or groups that have made a significant contribution to advancing athletic safety based on providing exemplary youth sport safety protocols and care that sets a precedent and/or model; and by providing appropriate medical care, research policy change or resource allocation.
Comstock's award citation notes her work in the field: "As one of the country's leading high school injury surveillance published researchers whose studies have influenced policy change and best practices, your dedication and tireless voice to improving the health and safety of young athletes is significant."
For the past decade, Comstock has been studying surveillance data to better understand youth sports injuries and offers evidence-based analysis rather than "emotion-based" opinions as have previously been the practice in connection to organized youth sports.
"The overall goal of this work is to provide information to all participants – high school athletes, coaches, parents, and even the media – to support decision making," Comstock explained.
Comstock shared findings that show, among high school athletes, girls have longer recovery rates than boys but that gender differences narrowed at the collegiate level. Also, collegiate athletes in soccer and baseball/softball had longer recovery times than high school athletes; but in basketball, there was no significant difference in recovery time across age groups. She also looked at concussion rates and severities in states that already had implemented guidelines on restricting number of days of full contact practice compared to states that had not.
According to Comstock, understanding injury patterns such as differences in recovery times or the effect of policy recommendations as well as other research supports helping policy makers fine tune risk minimization and injury prevention recommendations.
Last spring, Comstock was one of five experts invited by the White House to meet President Obama and to speak at the Healthy Kids and Safe Sports Concussion Summit to address the growing risk of concussions in adolescent sports.