PEOPLE
Clinical problem-solving series of articles includes work by Allen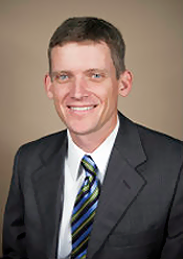 Larry Allen, assistant professor in the School of Medicine, is the lead author of an article in the "Clinical Problem-Solving" series in the current issue of the New England Journal of Medicine.
The article details a case in which high levels of cobalt and chromium were discovered in a 59-year-old woman diagnosed with cardiomyopathy. She previously had metal-on-metal hip implants and her symptoms support cobalt cardiomyopathy as the likely diagnosis. One of Allen's conclusions is especially worth noting: Specialists and patients may benefit from "improved awareness and multidisciplinary communication" regarding the potential risks associated with these devices.
According to Allen, "... for many patients we do not find an obvious cause (of worsening heart function), and they are given the diagnosis of 'idiopathic dilated cardiomyopathy.' Ultimately, that is what we thought the patient had, until routine testing for her recalled hip prostheses asked her to get a blood test for cobalt, and it was very high. From there it was pretty easy to think that her hips might be the source of the problem."
His work in this area also was discussed recently in The New York Times.