PEOPLE
Battle honored as a 2013 First Responder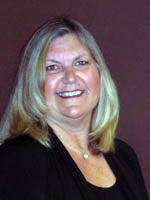 Cindee Battle, the Emergency Communications and Records Division manager for the Anschutz Medical Campus, was recently honored by the Rotary Club of Aurora for her service as a first responder.
Battle joined a team of five campus police technicians (dispatchers) in 1989 at the then Health Sciences Center on 9th Avenue and Colorado Boulevard. Dispatch was located in a multipurpose room with one computer, one radio, one telephone and a camera system that recorded on VCR tapes.
When the campus move to Aurora began, the Police Department had to maintain two dispatch centers -- one for each campus. Battle was promoted to Dispatch Center manager to oversee merging the two dispatch centers until the closure of the Ninth Avenue campus.
In her current role, Battle has developed a Records Section and implemented purging standards that never existed. She became a member of the Colorado Certified Records Network (CCRN) and is active in the Association of Public Safety Communications Officials (APCO).
Today, the CU Denver Emergency Communication Center has grown to include six radios including Aurora and Denver Police, Aurora Fire, University of Colorado Hospital security, Children's Hospital Colorado security and the department channels including a campus 911 phone system with ten incoming lines. The dispatch teams also monitor more than 200 cameras and a security system with more than 1,000 alarm points to protect facilities as well as the biological, chemical, and radiological research areas on campus.
"Cindee has been 'the one' who has made all of this happen, ensuring the CU Denver Police Department Emergency Communication Center personnel are trained and prepared to respond to the needs of the 23,000 faculty, staff, students and visitors that are at the campus every week day," said Police Chief Doug Abraham. "This was no small task and the growth continues today. Cindee has been the key to the success of this transition."
"I was humbled to be in a group of so many true heroes," said Battle. "I share my award with those past and present who have made it all possible for me and my division to grow and be successful at what we do."