PEOPLE
Abdel-Maksoud named director of Global Public Health MPH concentrations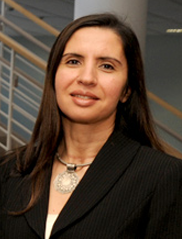 The Colorado School of Public Health has appointed Madiha Abdel-Maksoud director of the Global Public Health Masters of Public Health (MPH) concentrations at the Anschutz Medical Campus.
Earlier this fall the school announced the MPH program expansion.. The new global public health MPH allows students to develop an understanding of the global context of various public health concentrations offered on the Anschutz Medical Campus: applied biostatistics; community and behavioral health; environmental and occupational health; epidemiology; health systems, management and policy; and maternal and child health. The new global public health concentrations complement the school's existing and successful MPH in global health and health disparities offered at Colorado State University.
As director of the Global Public Health concentrations, Abdel-Maksoud will collaborate with departmental representatives, oversee curriculum and learning competencies for the global concentrations, interact with prospective students and the public, chair an interdepartmental committee that oversees the multiple global health concentrations, develop practice based learning opportunities, including practicum and capstone projects, and develop scholarship opportunities in global public health.
Abdel-Maksoud received her M.D. and M.S.P.H. degrees at Tanta University School of Medicine in Egypt, and completed her Ph.D. in Epidemiology at the University of Colorado Denver. She has strong expertise in the field of global public health.
She has participated in two World Health Organization (WHO) programs in Egypt to control diarrhea and dehydration, and to manage acute respiratory infections among children. Abdel-Maksoud taught several graduate and undergraduate global health courses both within and outside CU, and she is a senior investigator at the CSPH Center for Global Health. University of Denver Joseph Korbel School of International Studies.